On April 14, 2020, Amazon sent messages to its partners (affiliate marketers through Amazon Associates) in which it announced a decrease in affiliate payments. The changes take effect on April 21, 2020.
Amazon reduces payouts for the following product categories:
Furniture, home improvement, garden, pet products – the commission will fall from 8% to 3%.
Beauty, musical instruments, headphones, industrial goods – the commission will decrease from 6% to 3%.
Tools, goods for tourism, and walking – reduction in commission from 5.5% to 3%.
Groceries – decrease from 5% to 1%.
Sports – decrease from 4.5% to 3%.
Goods for children – decrease from 4.5% to 3%.
Health and care – decrease from 4.5% to 1%.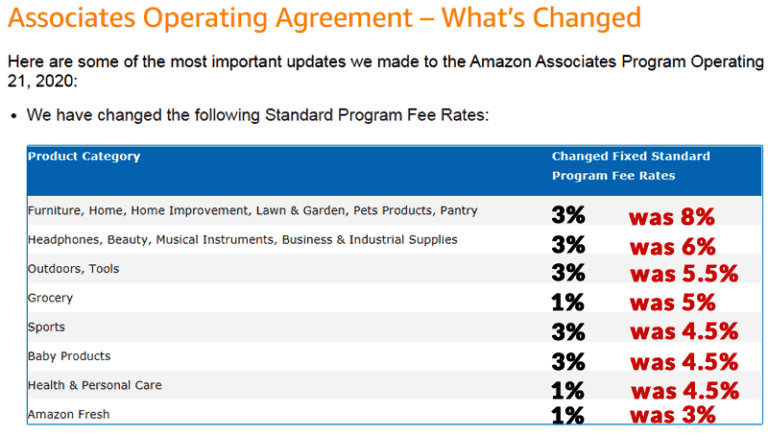 The changes did not affect the categories of Luxury Beauty, Amazon Coins, PC, DVD & Blu-Ray, toys, Amazon Kindle devices, Amazon Echo, watches, jewelry, luggage, shoes, bags and accessories, and several others.
Amazon affiliate program participants negatively perceived the news, saying that reduced payouts would hit their business a lot.
In situations like this, remember, that you must control your sales channel better. It's always safer to have a personal website or a WordPress based online store and not rely on 3-rd party service to make or break your business.
The additional lesson here is to always diversify your income streams. Be it by different low investment businesses, create an online business, sharing a room on Airbnb, start selling on Fiverr, podcasting, trading domains, and many more. Share with us your thoughts in the comments.
EDIT: Walmart is cutting its affiliate rate commissions as well from 4% to 1% on most of its categories.
Latest posts by Johnny McKinsey
(see all)