If you've been planning to make a blog but didn't know where to begin, then you've come to the right place!
A SIMPLE BEGINNERS GUIDE ON HOW YOU CAN CREATE YOUR OWN BLOG IN AROUND 30 MINUTES.
Blogging is one of the proven ways you can use to reach millions of people through the power of the internet. Whether you want to promote your business or your personal brand, blogging will help you attract the right audience. Also, an additional thing about blogging that you'll appreciate over time is that it shapes your life and elevates your perspective. However, the question many people are asking is how do you start and run a blog successfully?
Well, unlike many things in life where no clear-cut answer exists, blogging has a best practice. In this tutorial, I will show you how to start and run a blog in just about 30 minutes.
A lot of the tutorials out there are written in a prescriptive style telling you what to do and what not to do if you want to succeed in blogging. This guide is a little different because it takes you through a personal journey. I have written it from my personal experience creating blogs in different niches and selling many of them. Here, you will learn how to start a successful blog.
Look, it doesn't really matter if you are a novice, an 18 or 80-year-old, blogging is an art and a science. This means that you too can learn and achieve great success in it. I have simplified the guide so you can understand it without struggling. However, just in case you get to a point and feel that you are stuck, don't hesitate to contact me. Just leave a comment here and will get back to you, I promise!
Starting a blog can be summarized in a 4-step process. Here is what you need to know as we set off on this exhilarating journey.
Choose a platform to blog on
Get a domain name and a hosting provider
Install WordPress on your web hosting solution
Pick an appropriate theme, develop and launch your blog
The content management system we shall use to build your blog is WordPress, which is the leading blogging platform today. Just follow through as we begin.
STEP ONE – Choosing Your Blogging Platform
When I talk about a blogging platform, I mean the software you need to build and manage your blog. The platform allows you to do quite a lot of things including creating blog pages, adding content, editing content, and even deleting pages and posts.
The commonly used term for a blogging platform is the Content Management System (CMS), so from now on, when we say CMS, it's the same as a blog. There are lots of platforms out there that you could use. Most of them have both free and paid packages. The main platforms you could consider include:
WordPress – More than 30% of all websites online use WordPress. It is by far the most popular CMS in the world. Starting a WordPress blog is the right choice.
Drupal – This is an open-source CMS that supports about 1.7 million websites online including the official White House website.
Joomla – This CMS has thousands of features and designs you can use to build your website. Currently, it supports 2.5 million websites online. However, it has a steep learning curve.
Blogger – This platform is owned by Google and currently supports 448,831 websites. In terms of market share, it claims about 1.4% of the industry.
Squarespace – This content management system comes with pre-built website templates and uses drag and drop elements to build a blog. There are about 2 million blogs out there that run on Squarespace.
Should You Run Your Blog on a Free Platform?
While it looks enticing, starting your blog on a free platform can give you a wrong footing. The fact that you don't pay a cent to use the platform shouldn't be celebrated much because these platforms expose you to a host of undesirable issues. Below are some of the demerits of free blogging platforms.
Denies You Real Ownership
The free version of WordPress or Blogger gives you the privilege to use their platform but not the right to ownership. Your account can be shut down at any time without notice to you. If you have content uploaded on the blog, it may be lost never to be recovered.
Limited Customization
In as much as you'll have access to free plugins and other design features, their use is limited. For your blog to attract the right audience, its design must stand out from the rest. Free content management platforms do not give you the luxury of customizing your blog. You'll only get the basic features.
Lacks Custom Domain
Free blogging platforms may use your account to advertise their products. For example, the free domain you get will have a structure like this – yoursitename.wordpress.com. The wordpress.com bit is called a subdomain and the only way to get rid of it is to switch to the paid version of the CMS. When you starting a new blog, to succeed online, you need a unique custom domain and not a site name linked to a web host subdomain.
Difficult to Monetize
To make money from your blog, you need a proper domain and hosting platform that will allow you to place affiliate links and ads. Most free content management platforms do not allow you to put links and ads on your website. Therefore, you stand no chance to make money from your blog.
Limited Bandwidth
As you upload content including videos and images to your blog, you'll need a web host that can accommodate all that without running out of space. Free blogging platforms limit the pace they assign you. For instance, WordPress gives you a storage limit of 3GB for media. It's important to consider when you create a blog.
Poor Search Engine Optimization Performance
Hosting your blog on a free platform means that loading speeds will be slower and search engines will not assign as much weight to your URL as it does to custom domains. Normally thousands of free websites are assigned to the same server hence the slugging load speed. This affects user experience and ultimately your SEO ranking.
The bottom line is you should stay away from free blogging platforms if you really want to reap the benefits of running a proper and profitable blog. You could be thinking of starting small on a free platform and later shifting to a paid platform. The tricky aspect of this strategy is that moving your content across platforms or from free to paid can be time-consuming and quite technical.
The Best Approach for Creating a Reputable Blog
From my experience, building your blog on a WordPress platform has lots of benefits. My website, onlinetoolsexpert.com, is built on WordPress as well. At the basic level, you'll have a professional, custom domain and your content will be hosted on a space that you own 100%.
As for a WordPress blog webhosting that you will need, getting a reliable web host means that your site is always backed up. If for any reason something happens to your website, you'll be able to recover all your content.
And why WordPress is a great platform to launch your blog? In terms of market share, WordPress is at position 1 with almost 60% of the market share, followed in a distant second by Joomla at less than 7%. The platform runs over 27 million live websites with the United States accounting for over 30% of them. WordPress also has excellent community support and it is simple to use.
Simple to Set Up
WordPress is one of the simplest content management systems to set up. It works almost the same way as you would set up your Facebook page or Instagram account. In fact, even a 10-year old can quickly put up and run her own kiddy blog.
Easy to Manage
Blog management is the bulk of the work that follows a blog set up. Tasks like adding content, videos, images, and other features comprise the day-to-day blog management. WordPress has simplified that through an intuitive interface. You can quickly add a page, post, or plugin and get your site running.
Customized for Blogging
WordPress was designed with blogging at the heart of it. All the functionalities and capabilities that bloggers need are built-in and readily available on the platform. With a simple plugin, you can set up an email subscription to your blog. In a few minutes, your first blog can be up.
Gives You Control
Most websites are designed, developed, and managed by professional designers. This means if you want to change anything including a line of text, you have to call the developer. WordPress changes all that by giving you control to make amendments through the dashboard as you wish.
Privacy and Security
WordPress constantly updates its plugins to ensure the version running is always up to date. As long as you adhere to the best practices in areas such as password protection and installing only recommended features, the CMS assures you of privacy and security.
Support
WordPress is backed by a vast community of vibrant contributors. Some of them are developers, top WordPress owners, and volunteer enthusiasts. Through the forums, you can get all the support you need from people who have walked the path you are in.
As you see, once you start a WordPress blog, it's the right pick. WordPress is the best blogging platform today.
STEP TWO – Get a Domain Name and Hosting Provider
First things first, for you to set up a blog, you must have a domain name and a hosting space. For beginners, it makes things simpler if the domain and hosting service are all bought from the same company.
What is a Domain Name?
This is the address your blog is assigned on the internet. Therefore, anyone looking for your blog will use this name to find it. Your domain name should be one that is easy to remember, catchy, and short. If possible, you could stick in a target keyword for SEO purposes. Top level domains (TLD) like .com are easy to recognize.
Where Should You Host Your Blog?
A web host is a company you choose to buy hosting space from. There are over 330,000 hosting providers in the world each offering a set of packages to its target market. WordPress packages usually begin from around $5 per month, a fee that includes both hosting service and with some of the hosting providers, a domain name registration.
The company I recommend for the best hosting plans is DreamHost. Its packages include managed WordPress hosting, SSD hosting, cloud hosting, and shared website hosting that goes for as little as $2.59 a month. The company also offers a 97-day money-back guarantee just in case you are dissatisfied with their services within this period.
They're also recommended by WordPress.org as a top WordPress host since 2006.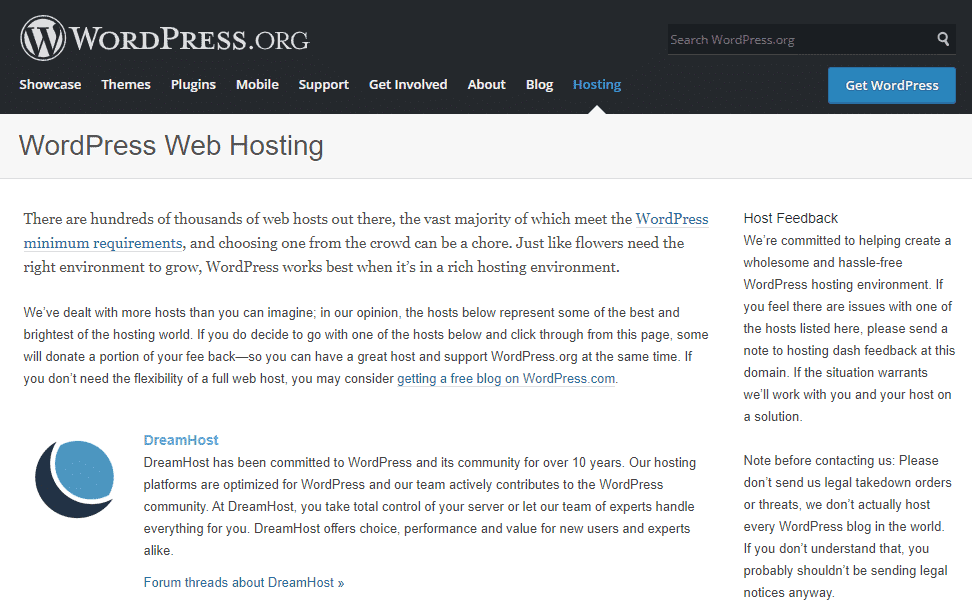 Additionally, if you sign up to DreamHost, you will get high-quality hosting from just $2.59 per month, as well as a FREE domain name for the first 12 months for your new blog too!
Use this link to get a free domain with your hosting.
Remember: If you're unhappy with your DreamHost purchase within 97 days, they will give you your money back.
Starting A WordPress Blog On DreamHost
You can get high-quality hosting from DreamHost at a crazy cheap price of just $2.59 per month (+ free domain name as well).
But, for new bloggers looking to grow their sites, I recommend going for the DreamHost $5.95 WordPress Unlimited plan, as you get a lot more unlimited features. This is ideal if you plan to scale up your blog in the future or host more than one website on it.
Yearly plans save you 50% of your cost and provide you with a free domain, so it's highly recommended to go with those.
Remember that you can always start off with the basic plan and upgrade whenever you feel you need more features.
Here's what you get for $5.95 per month with the DreamHost WordPress Unlimited Plan:
Unlimited Websites
A FREE domain name (worth $15)
Unmetered website space
Unmetered bandwidth
Unlimited email accounts
Unmetered email storage
Unlimited site hosting on your account
Free SSL Certificate (by Let's Encrypt!)
One-click WordPress Install and 24/7 support
Host unlimited numbers of websites on your account
Get DreamHost $5.95 WordPress Unlimited Plan >>>
Click on the "Get Started" button to start the process of creating your very own blog.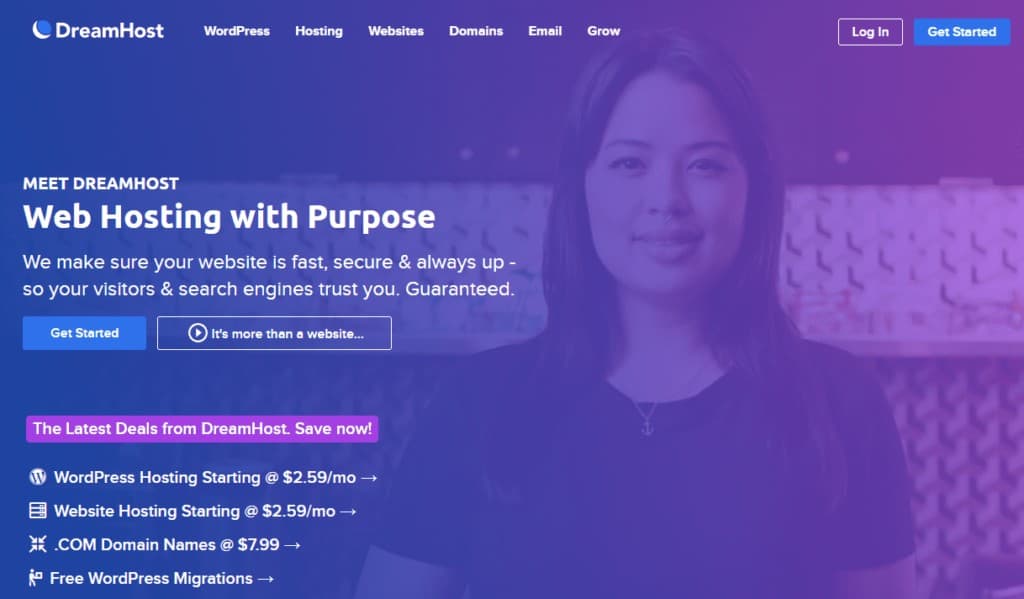 In the next step, you will have to pick the hosting plan for your new blog. As suggested previously, go with the DreamHost WordPress Unlimited plan, or, if you want something more luxurious, the DreamPress plan (I think it's better to start with the unlimited one).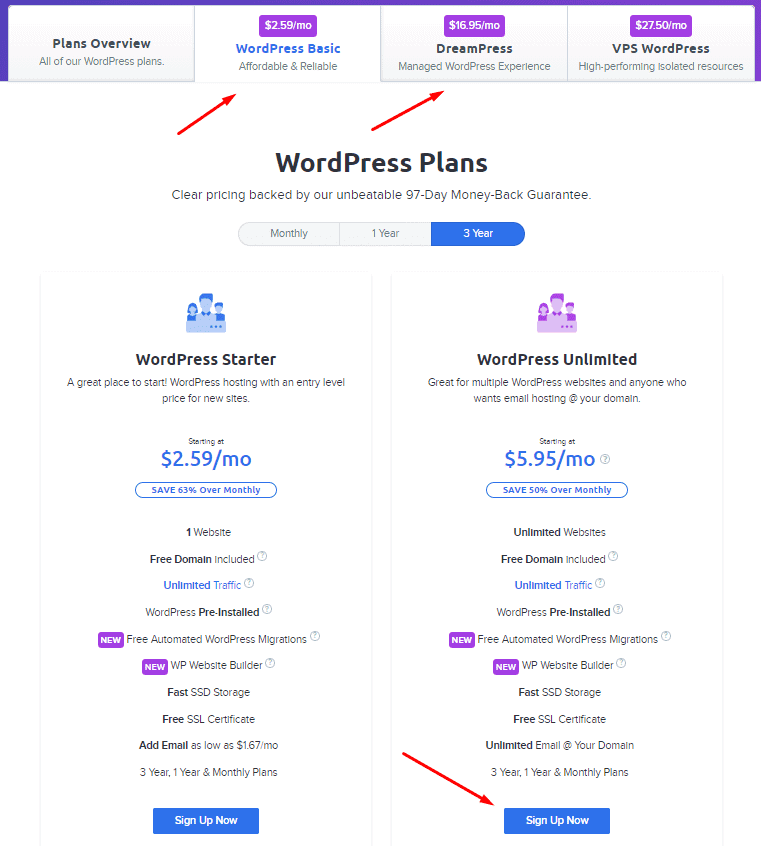 Once you picked your blog hosting plan, the next page will come up. Here, you can register a free domain, in case you picked a yearly hosting plan before.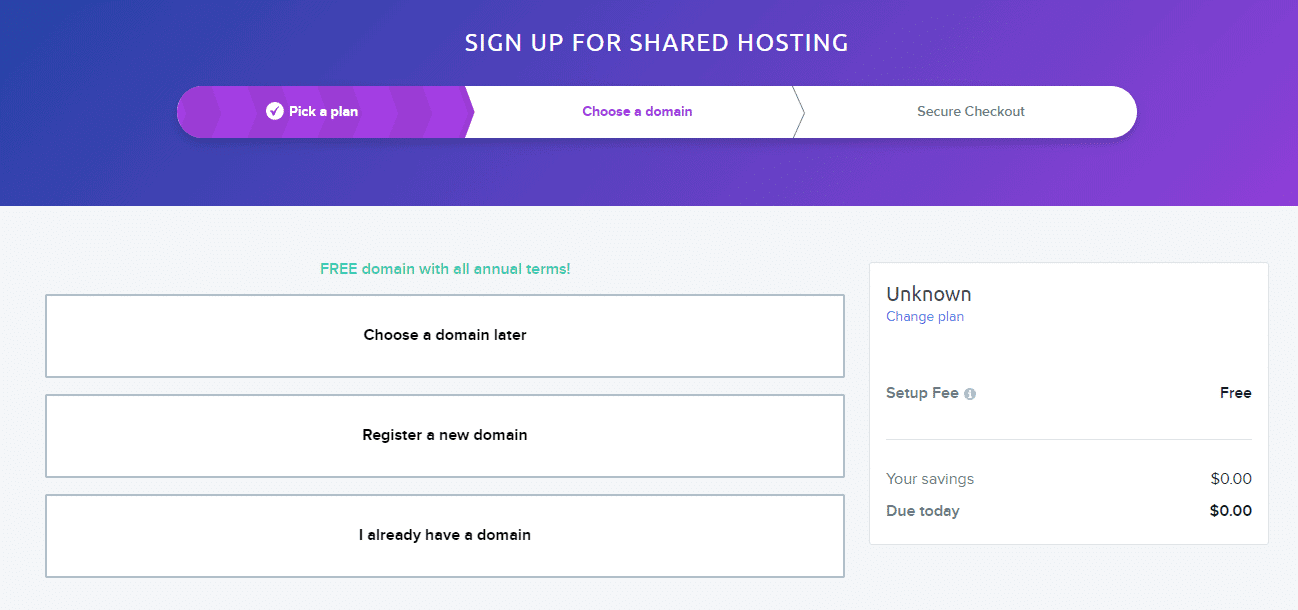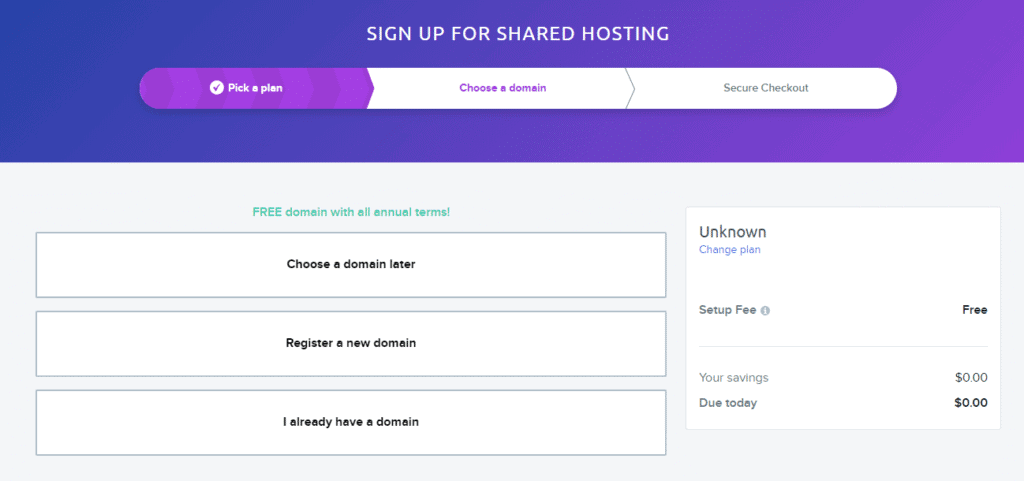 In case you registered a domain previously, from a different domain name register, you can content it in the 'I already have a domain' option. For a new one, just click on the 'Register a new domain' and follow the instruction to register it. It should be pretty straightforward – you just type in the domain name that you want in the search box, and it will show you if the domain name is available or not.
Keep on doing that until you find an available one. DreamHost domain search is also smart and will always try to help you with different domain name suggestions and ideas.
After that, a payment window will load. Pick your favorite payment method and set the configurations as below. Submit order.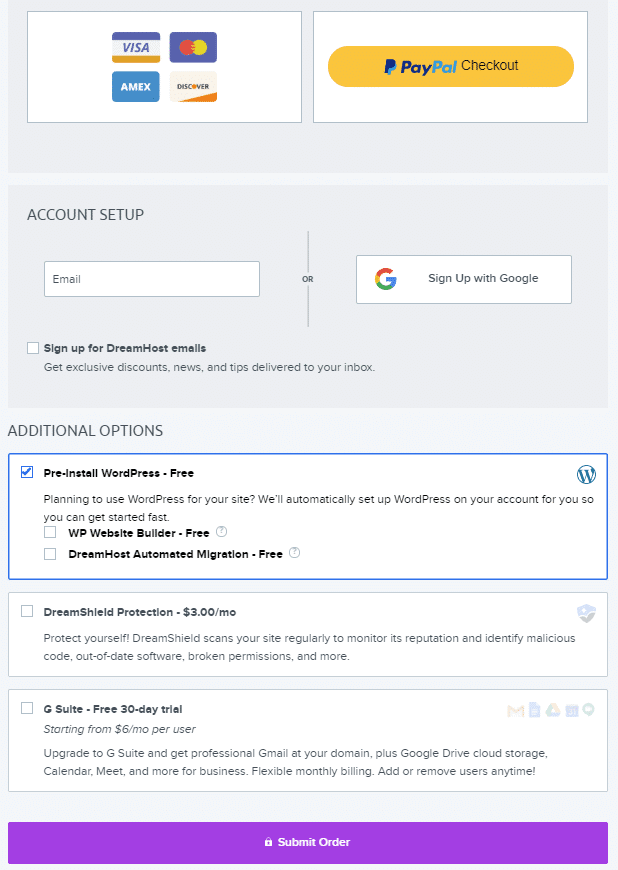 After that, you should receive an email from DreamHost with all your new account information (it could also arrive in spam, check it as well).
Keep the login information in a known place, you might need it.
The next thing that will happen is the creation of a password for your WordPress dashboard login. Make it a hard one, use more than 10 characters with special signs and upper ad lower case letters. You probably heard about that, but there are a lot of site hackers out there. A strong password is really helpful in these cases.
STEP THREE – Install WordPress on Your Site
Once you have bought your domain name and hosting package, the next step is to install your WordPress blog. Every web host has its own unique ways of doing an installation. On DreamHost, you will benefit from a 1-click WordPress install service that gets your blog up and running in minutes.
So at first, you need to go to your DreamHost dashboard, and from there to Domains -> Once Click Install:

There will be a bunch of options, just go and pick WordPress installation. Here, choose your domain and leave the database installation as on the screenshot below. That's it. Just click on Install it for me now!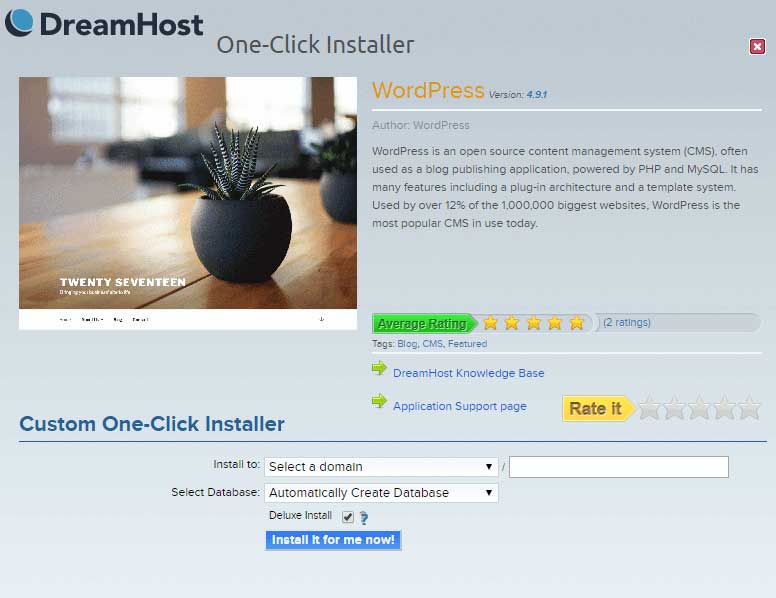 Now, go to your email inbox which you registred on DreamHost. There, you will have an email with the username and the password to connect to your site. Now, you can access your site! Go to www.yourdomain.com/wp-admin and with the username and login you received. You will land on your new blog site WordPress dashboard. One step forward in starting your blog.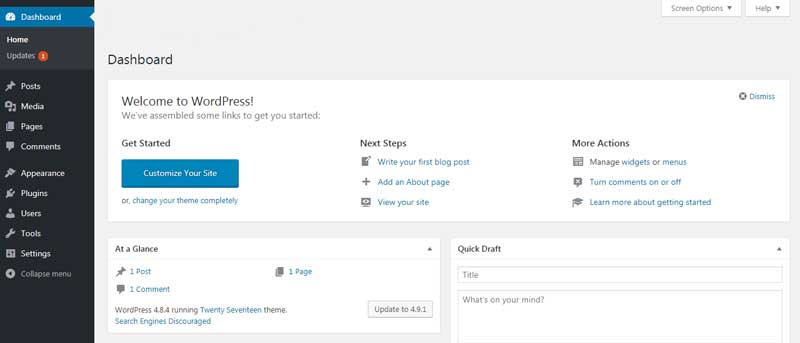 Your site is in the air! What could you do now? Don't worry, WordPress is really easy to pick up.
Start by looking into posts and pages which will allow you to add new content to your new blog. Write some example text and publish it to your blog. Pretty exciting, huh?
Now, let's learn how to change the appearance of your blog with a theme, in the next step.
STEP FOUR – Pick an Appropriate Theme
Since your blog is built on the WordPress content management system, you will need a WordPress theme to crown it all. The theme comes as a pre-designed template that also gives you the ability to tweak and customize. The best places to find beautiful and full-featured themes for your blog include:
Themeforest – Here, you can get themes and templates for anything from $2. The themes are of high quality and are backed by a strong support team.
StudioPress – The WordPress themes developed by StuidoPress don't require as much maintenance and they are all mobile responsive.
Mythemeshop – Developers at mythemeshop emphasize greater user experience, optimum performance, and clean code for all their themes.
WordPress Theme Library – WordPress has a host of themes in its library that you can choose and upload almost instantly. This is the one we recommend to start with.
Whatever theme you choose, your priority should be that it fits with your goals. A professional blog fits well with a formal clean design whereas an art or entertainment blog stands out with a creative theme.
Installing Your Theme
Let's install our first theme from the WordPress theme library. Hover the cursor on the Appearance tab located on the sidebar and click on Themes. This will lead you to the themes page on the dashboard.
At this point, you have the option to Activate one of the themes listed or do a Live Preview to see how a particular theme will look on your blog.
Otherwise, in case you are not happy with the new theme, you can switch back to your old theme or search for a new one from the dashboard. There are thousands of free WordPress themes that you can download and use.
Click on Add New and you will be transferred to the main theme search window. Here you can customize your search by applying filters or just look around from the Latest, Popular, Featured, and Favorites categories. As you see, it's all very visual and straightforward. Just play with it.
Uploading Your Purchased Theme
In case you don't want to install a theme from the library and have your own one, it comes in a zipped folder as a downloadable file. If you so wish, you can upload it straight away onto your WordPress dashboard. This is as simple as logging onto your WordPress blog.
Remember your theme is in a zipped folder. To upload it onto WordPress, go to Appearance then click on Themes. On the dashboard that opens up, click on Add New then Add Themes and upload your theme.

Ideally, the theme should be somewhere in your download folder or wherever you have saved it on your computer. At this point, the theme is still blank waiting for customization. You can begin by filling out some basics like social media links, logo, and uploading some plugins.
FAQ's About Starting A Blog
Is Blogging Dead?
Blogging is not dead. In fact, it is one of the fastest-growing platforms for communicating and spreading information across the web. Instead of procrastinating, start your today and impact the web with knowledge.
Through blogging, you will be able to connect with others, share your ideas, and improve your writing. Many people have become thought leaders through niche blogging. But, you should do it right and learn how to start a successful blog.
Can You Earn Money from a Blog?
Yes, you can make money from blogging. The many people out there who are making tons of money from blogging have two main secrets: they never give up and have selected their niche wisely. To sustain your blogging discipline, you must start with a niche that you are passionate with. Other ideas on how to monetize your blog include selling ebooks, posting ads, and affiliate links.
Does It Take Long to Write a Blog?
Depending on the type of post you are writing, you can take anything between 1 to 3 hours to write a good blog. The process includes drafting the article, proofreading, adding images, uploading on your site, and promoting it on social media. You can also do guest blogging and link back to your website.
In what niches can I start a new blog?
It's don't really matter. Blogs suit pretty much every niche out there be it fashion, photography, books, or sports. If you ever wondered how to start a beauty blog or travel one, this guide will lead you in the right direction.
Do I Have to Pay to Start a Blog?
No – you can begin from a free platform such as WordPress.com or Blogger.com when you create a blog. However, my personal advice is that you should get a paid blogging platform even if it is at the basic level. This will set you up for a successful journey ahead and increase your chances of earning from it.
Can I Start a Blog Without Deep Technical Knowledge?
Yes, in recent years, starting a blog becomes much easier. When you start a WordPress blog, it's basically a 30 minutes process that at the end of it, you can have a new and shiny blog in the air. This guide was created with ease of use in mind, so refer to it (or leave a comment) for every question that you have.
Latest posts by Johnny McKinsey
(see all)