If you want to increase your visibility as a business or personal brand, connect with your audience, and fight for your own space on the Internet, you must establish an online presence. In a study by GE Capital Retail Bank, between 70-80% of customers at first search for a company online before visiting its premises or committing to a purchase.
Whereas businesses can get online through social media, having a website is the recommended first step in establishing your brand and business online. The website will act as a hub from where the 'spokes' connecting to guest blogs, social networking sites, and other online spaces emanate.
The first decade of the 21st century has recorded an explosion of technologies that have taken about 1.5 billion websites online. Some of these are business websites while others are for individuals and non-profits. You must be a part of it if you want to succeed online so let's learn how to buy a domain registration and even how to register a domain name for free.
Getting A Domain Name – Where It All Begins
While you can build a website on your local machine, you cannot take it online without a domain name. Think of your domain name as your online address where all your resources are located. Therefore, getting a domain name from the best domain name registrar is effectively the first step toward building a website.
Much like your personal name, the domain name is your website identity. While coming up with any name suffices, you'll want one that truly reflects your activities and what you want your website to be known for. This guide discusses all you need to know about domain names, and how to find, register, and maintain them.
The Importance of a Domain Name
Are you probably asking yourself how important is a domain name? Well, there are three critical aspects of domain names that you need to appreciate right from the onset.
First and lasting impression – Your domain name is the gateway to your website resources. It has the power to give your visitors a positive lasting impression about your brand or ruin the party.
Affects SEO Ratings – While exact match domains (EMDs) such as cleanyourroomflorida.com are no longer an outright ticket to the top of search engine result pages (SERPs) having well-placed keywords in your domain name can boost your ranking efforts.
An important tool for brand definition – Getting the domain name right makes it easier for your target audience to identify with your brand and for potential customers to quickly wrap their heads around what your business is all about.
How to Register a Domain Name
To register a domain name, you must first identify an ICANN-accredited domain name registrar. The Internet Corporation for Assigned Names and Numbers (ICANN) is a non-profit organization that plays a unique role in defining how the domain names ecosystem works and evolves. Some of the top domain registrars are:
NameCheap – A reliable and cheap Los Angeles-based registrar and web hosting provider. Currently home to 10 million domains.
DreamHost – FREE domain name registration with webhosting solution. A reliable web hosting that hosts over 1.5 million websites for more than 400,000 users. Get a FREE domain (for 1 year) from DreamHost.
Hover – Registrar with headquarters in Toronto, Canada. It's a good option, but we suggest going with NameCheap or DreamHost.
To get a hang of what domain registration is all about, we'll cover three options one for each of the above registrars.
Register a Domain Name with NameCheap.com
Step 1: Go to NameCheap.com and type your domain name into the search box.
Step 2: When you see that your domain name is available, add it to your cart.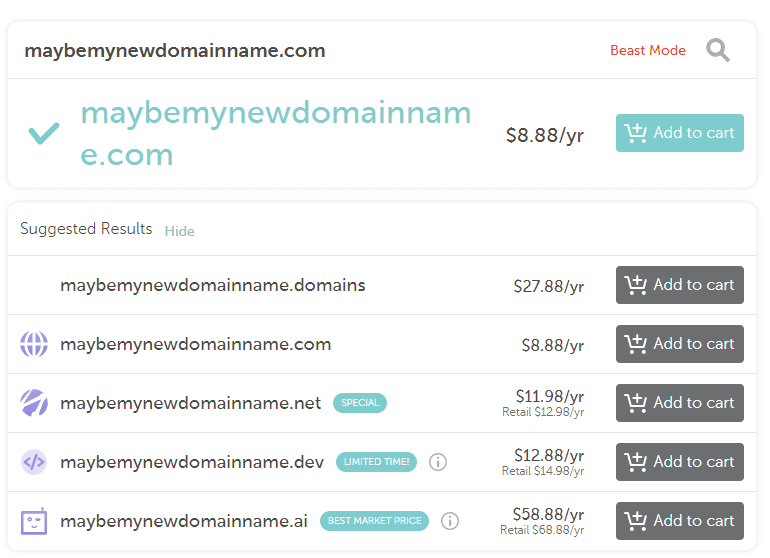 Step 3: Note that WhoIsGuard, which is the domain privacy functionality is free forever, while on other sites it can cost up to $9.99 per year. Great perk by NameCheap (and of course, if for some reason you're not interested, you can simply un-check the box).
Step 4: You can change the term of the registration (number of years for domain registration). I'm suggesting at least a 3-year period, so you won't have to worry about renewing after the first year.
If you're absolutely committed to making your website work over the long term, perhaps you should even select the 5-year term domain registration period.
Now press on Confirm Order, insert your payment method information and you got it, your own domain name!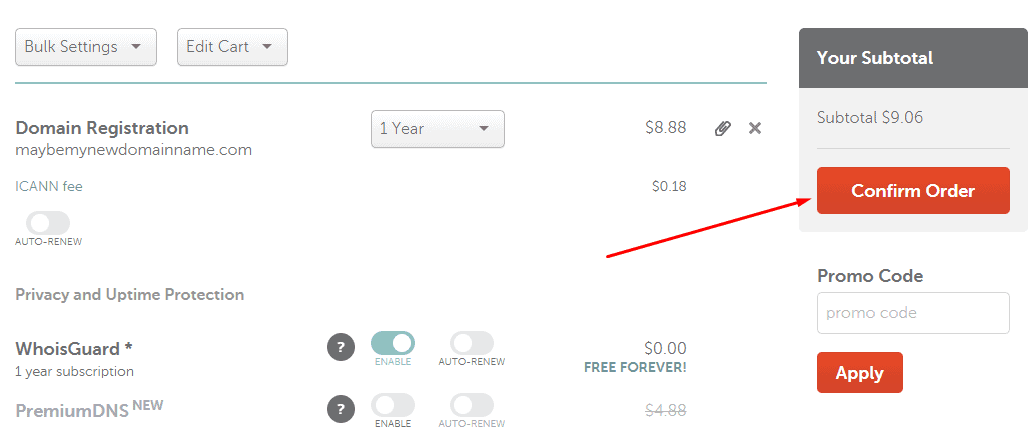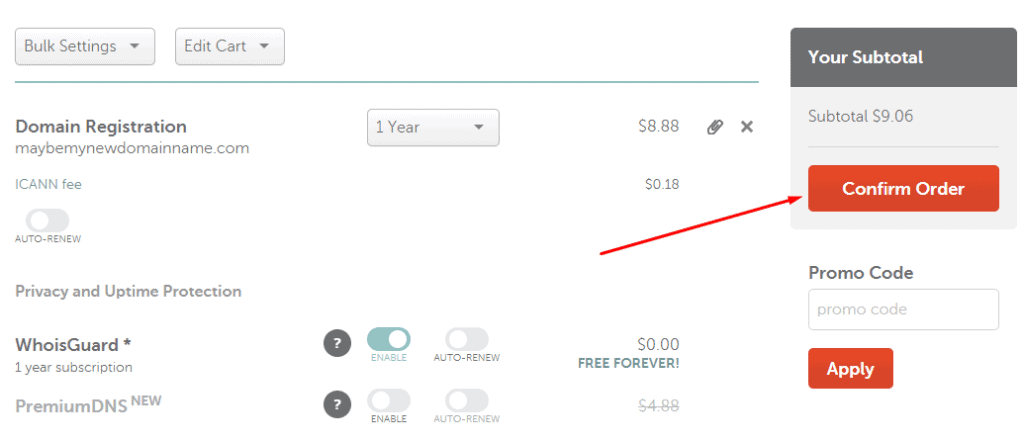 Get a Free Domain with DreamHost
A neat trick that we highly recommend people to use is to get a web hosting and domain together. Because, later on, to make your website work, you're going to need both of them anyway, so why enjoy a free domain if you can?
So why DreamHost? It's a Los Angeles-based hosting provider, that is not from the EIG list and has been in the industry for close to 25 years, and offers free domain name registration for up to 1 year.
The free domain name and hosting will also help you save some time, money, and the need to migrate your domain name (name servers) to your web hosting service (when you buy them separately, you need to configure your host with your registrar name servers).
DreamHost.com: Currently offers register for FREE domain name (for 1 year) for whoever signs up with their web hosting services. Great deal and if you wandered on how to register a free domain name, you got it.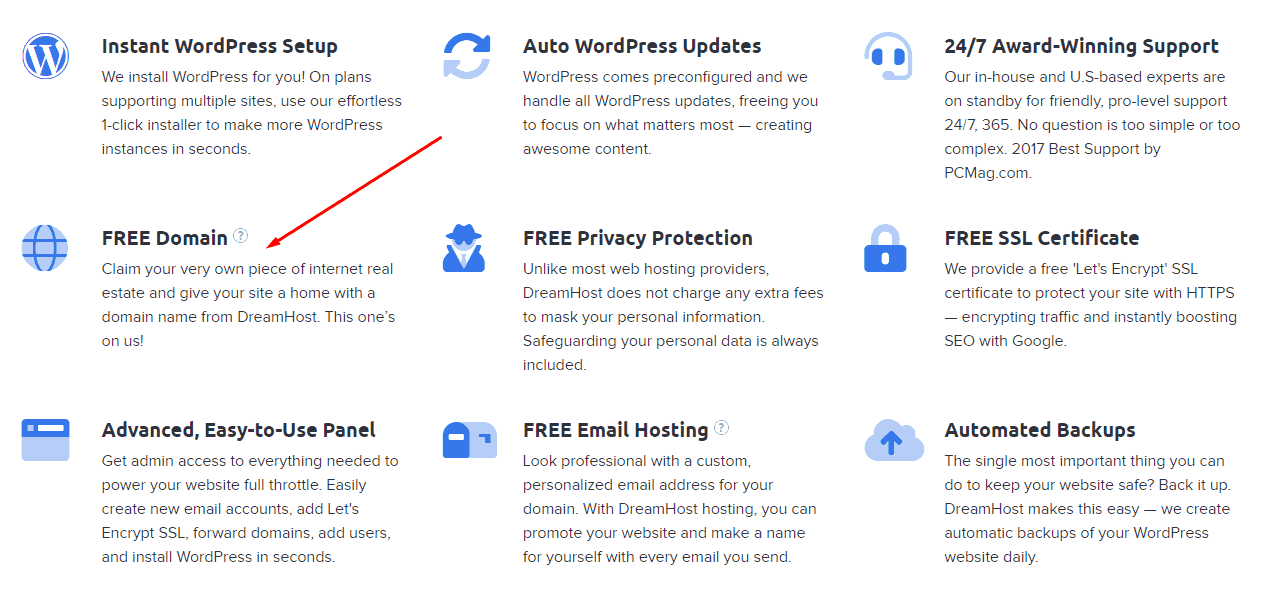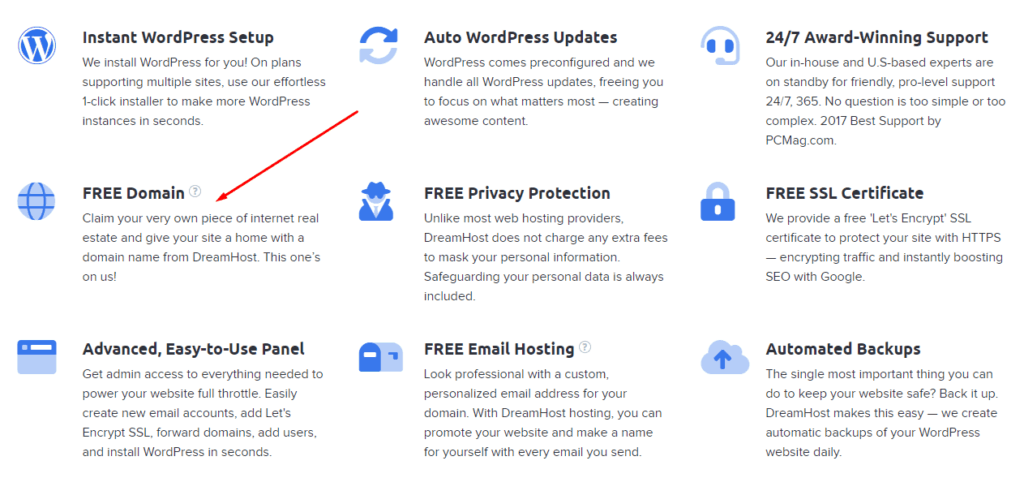 Q & A: Registering A Domain
The domain registration process, especially for beginners, comes with lots of what, how, and why questions. In this section, we shall cover some of the basic questions that are frequently asked in forums, blogs, and emails to registrars.
What is a Domain Name?
A domain name is an address that points to the location of your website and web resources. It is much like a stake on the ground that identifies where your business is on the vast world of the internet. An example of a domain is Namecheap.com or Cnn.com.
Domain names were created to replace or stand in for Internet Protocol (IP) addresses. The internet is a massive network of computers each having a unique identity known as an IP address. For instance, an IP address may read 154.70.55.159
As you can imagine, remembering this number every time you want to visit a website is rather difficult. To help ease the pain and simplify website location, domain names were created. A domain name can have a mixture of numbers and letters such as mysite123.com.
What are Domain Name Extensions?
Domain name extensions also known as Top-Level Domains (TLDs) refer to the part of the domain that comes immediately after the dot. Examples include org, com, and net. There are two basic types of domain name extensions.
Generic Top-Level Domain – These domains are universal. They do not fall under any specific country or region. Examples are info, net, come, pro, tax, etc. They are regulated by ICANN policies.
Country – Code Top-Level Domains: These are domains associated with a geographical region or country. They have two instead of three letters. Examples are nl, dk, ke, de, and ir.
New general top-level domains have come up such as auction, attorney, associates, accountant, and many others. There are more than 300 such domain extensions. In terms of popularity, .com is the highest followed by .net and .org. They are familiar and easy to recall.
When Should you Register a Domain Name?
As soon as you have an idea or a concept around a certain domain name, go ahead and register it. As of the latest number, the total number of domain names registered was around 350 million. Each day, more than 45,000 .com domain names are snapped up.
It is not a must that you have a business up and running before you can register a domain. The best approach is just to register the name for a year as you explore the possibilities of setting up a website. Most registrars give discounted pricing that you can leverage to ensure you don't miss out on your favorite name.
What's the Price of a Domain Name
Domain name pricing varies based on the registrar and the extension. Registrars such as Namecheap are known for their affordable domain names. With 10-$11 per year, you can purchase and maintain a .com domain name. Specialized top-level domain names such as .service and .store and others often come at a higher price.
For the first year, most domain registrars give offers to their customers. You can get a domain for as low as $0.98 which then renews at the normal pricing after the promotional year.
Do you Need to Have a Website to Register a Domain Name?
No, you don't. There are several options available such as registering a domain and then building your website later on such as NameCheap we previously recommended. You could also register your domain name and put up a coming soon page or a temporary website. Lots of internet-based entrepreneurs are in the habit of buying domain names as part of their portfolio and then holding them with the intention of trading them at a profit.
How do I Pick the Best Domain Name?
Choosing the best domain name begins with a research process. Although nothing is cast in stone, the following are some tips to help you get the best domain.
Get a domain name that is simple to spell and pronounce preferably a short name.
Go for a .com TLD because of its familiarity with most users
Incorporate your brand name and keywords in the domain. For instance, lawnmowingtexas.com
Avoid numbers or hyphens and always stick to letters for ease of recall
Which Domain Name Registrar is the Best?
Best could mean many things to many people but in terms of pricing and domain management features, Namecheap, Inc. is one of the best. It always has ongoing coupons and deep discounts for beginners, consistent pricing on renewals, and an easy-to-use dashboard with great support in case you will need one.
If you want to try out a free domain, go for DreamHost. Remember that you can always transfer your domain to another registrar if you don't feel comfortable with your current registrar.
Which TLD Should You Buy?
The best domain name extension is .com. It is not only easier to remember but also some keyboards and keypads come with a built-in .com extension to make typing easier for users.
How to Get a Domain Name for Free?
As we wrote previously in the article, you can get a free domain name in case you buy it together with a webhosting, from specific hosting providers that provide this service.
We recommend DreamHost, a reliable and SSD based hosting provider that hosts over 1.5 million websites for more than 400,000 users. That's your solution on how to get a domain name free. Get a FREE domain (for 1 year) from DreamHost.
Do I Need To Register New Domain Extensions?
You are probably familiar with the most common .com, .net, and .org extensions, but there are dozens of more potential extensions available. However, these new domain extensions are hard to remember and difficult to brand.
Whereas new domain name extensions are marketed as being brand targeted, some of them may be hard to remember therefore indirectly affecting your brand.
With that being said, You can have more than one domain extension to safeguard your business against destructive competition.
Can I Buy A Domain Name Permanently?
It is not possible to permanently own a domain name. Domain names are bought on yearly renewable contractual arrangements at the minimum. However, you can prepay for up to 10 years thereby getting the assurance of long-term ownership. So if you wondered how to buy a domain name permanently, that's your best way to go.
What happens when my Domain Name Expires?
Domain names expire if there is no payment made on the renewal date. Some registrars give you a grace period before taking the domain name back onto the market.
How is the Domain Name Renewal Process?
When you purchase a domain name, you are given access to a dashboard by the registrar from where you can renew your domain. Instead of doing manual renewals each year, you can decide to turn on the auto-renew feature. Domain registrars normally send you renewal reminders to your registered email.
Can I Reserve A Domain Name Without Buying It?
It is not possible to reserve a domain name. The only option available is to register it and then wait until you are ready to build our website.
How Do I Buy An Existing Domain Name?
If you've come up with a perfect name for your website but upon checking the domain name with the registrars you realize that it is already taken up, you still have a chance to get it.
However, you may have to first find out when the domain name was registered, who currently owns it, and their contact details. Some sellers may decline your offer to purchase while others may give you an outrageous price. All that notwithstanding, it is worth a try.
Conclusion
Registering a domain is not difficult, you only need to have all your ducks in a row before you begin. Take a bold step, buy your domain and build your website. Some registrars have website builders to help you quickly come up with a fancy website.
As we stated in the beginning, our recommended domain registration options are NameCheap for a reliable and cheap domain registrar with great UI, fast support and great pricing and DreamHost for a FREE domain name registration together with web hosting solution that you would probably need for your site as well.
Latest posts by Johnny McKinsey
(see all)