Since its launch in 2003, WordPress has grown to become a global sensation. Currently, it is the dominant CMS with 60.4% market share and approximately 24,808,989 live websites. In the top one million websites globally, those running on the WordPress platform total 318,828.
WP Engine is a managed WordPress hosting provider giving its customers tailored, feature-rich plans that are optimized for WordPress. It is known for its responsive 24/7 online customer support and excellent uptime. However, if you are looking for a cheap web hosting service provider, WP Engine may not fit the bill. Its cheapest plan goes for $35 per month, discounted to $29.17 for the first year.
If you want to fully understand what WP Engine is, its features, products, performance, pricing, and anything else you've always wanted to know, join us as we dig in!
Start WP Engine with 3 months free on annual prepay >>>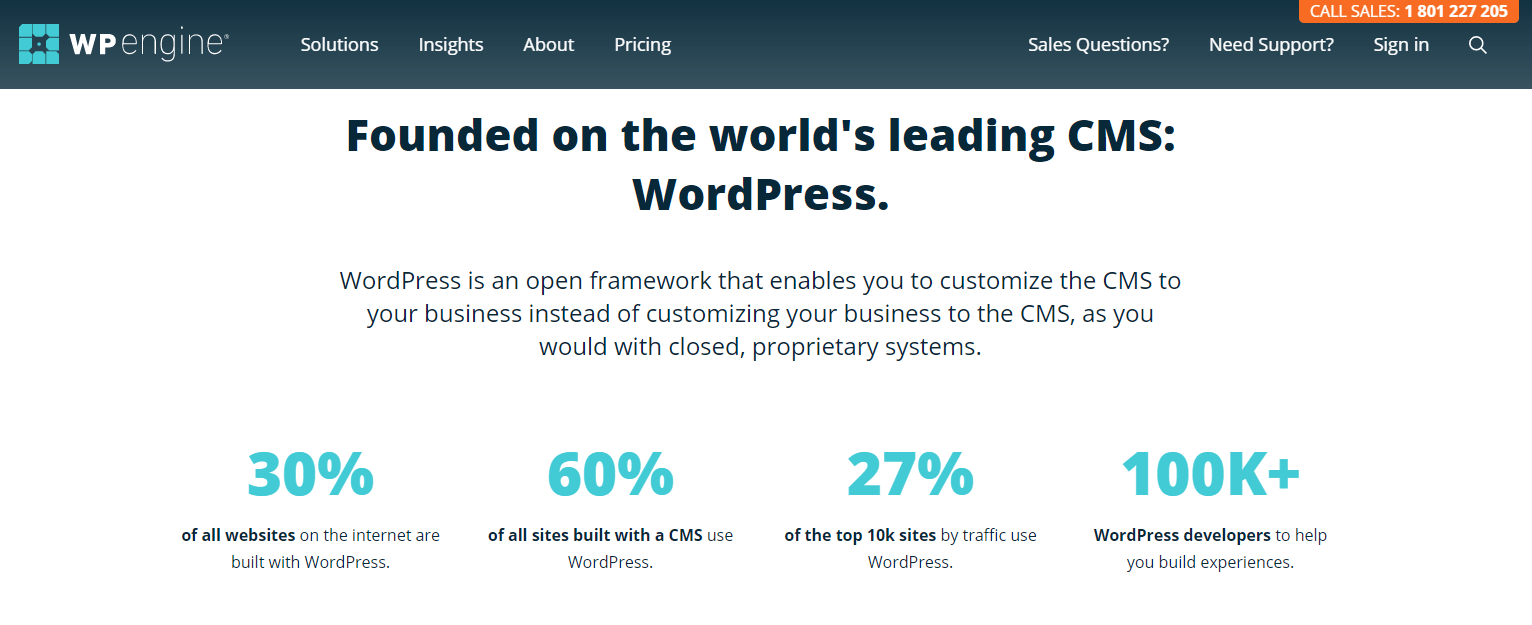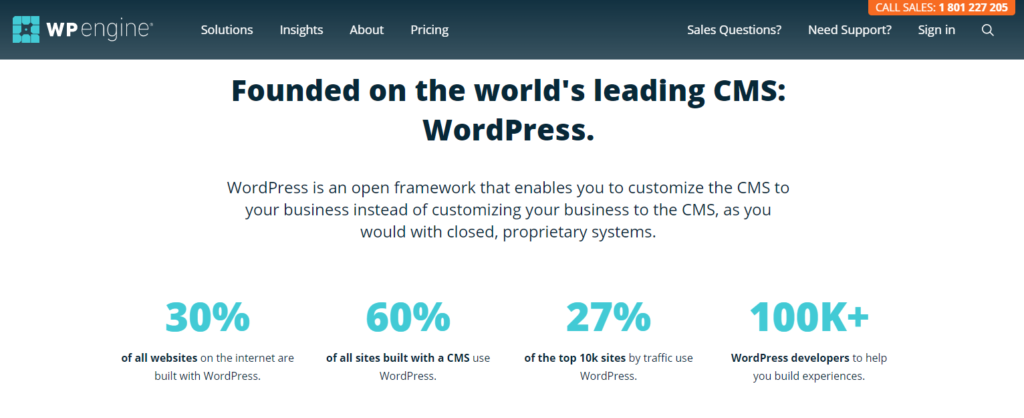 An Overview of WP Engine
WP Engine is about a decade old having been founded on Mar 1, 2010, by Ben Metcalfe, Cullen Wilson, and Jason Cohen. From its small beginnings in Austin, Texas, the company has spread its wings establishing regional offices in San Francisco, California; Limerick, Ireland; San Antonio, Texas; and London, England.
On June 24, 2019, WP Engine announced that it was acquiring Flywheel, the Omaha-based managed WordPress hosting company for web designers and developers. This acquisition brought its total employee count to 900 and a client base of 120,000+ agencies and brands. In 2018 WP Engine acquired StudioPress and Array Themes as part of its strategic positioning.
On top of the awards it has won for Best Place to Work in Austin, WP Engine has recorded phenomenal business growth. In 2018, the company recorded a 30% growth with annual recurring revenue of $132 million.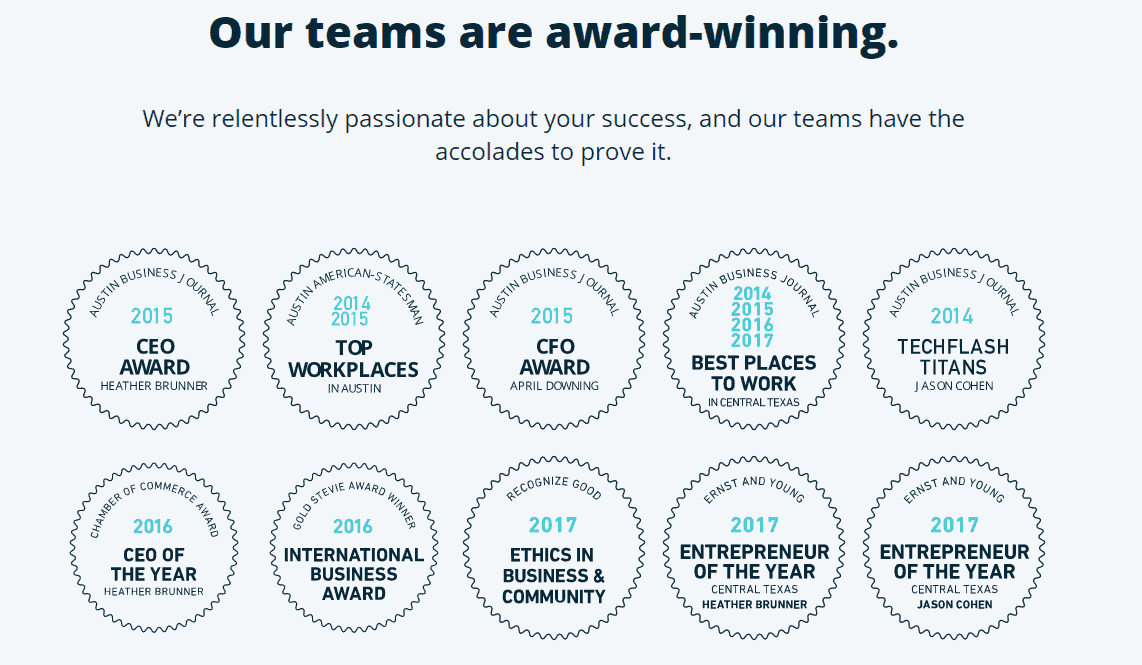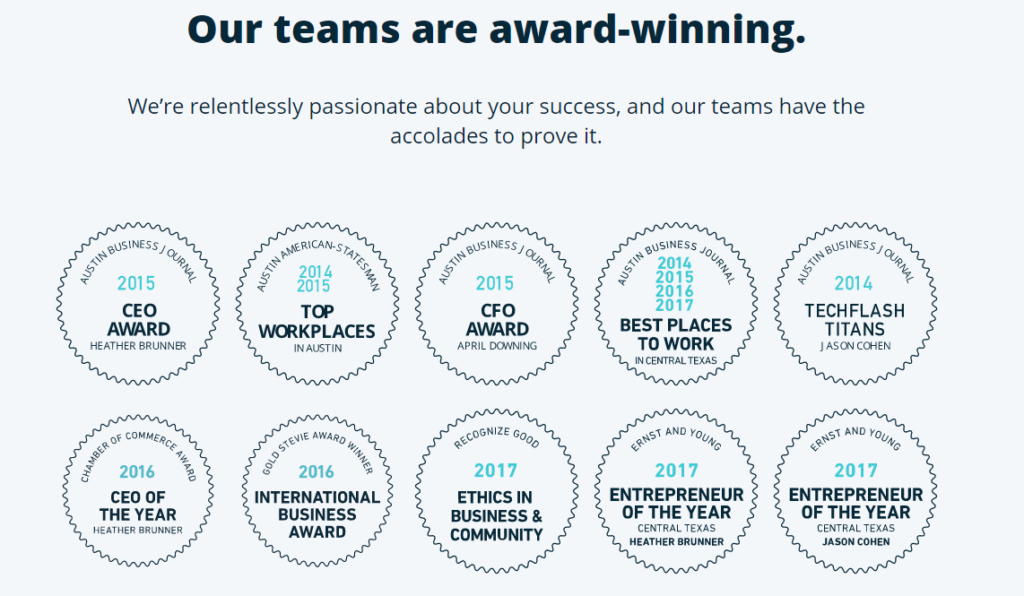 WP Engine Solutions
WP Engine has packaged its services into complete solutions targeted at agencies, enterprises, and small and medium scale businesses. Whether you are a marketer or developer, you'll find tailored products that address your unique needs.
Small and Medium Scale Businesses
As a small or medium business, staying online is a priority if you are to compete effectively and build your audience. WP Engine gives you actionable insights to elevate your experience, a reliable platform to grow your revenue, and an architecture that enables you to perform expertly.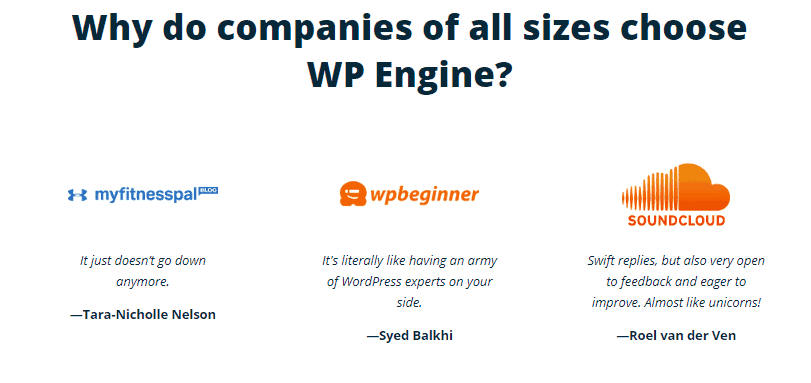 Agencies
WP Engine enables agencies to build their businesses through digital innovation. The hosting provider takes care of digital performance and the security of your assets online, leaving you to concentrate on creating meaningful customer relationships. WP Engine agency solutions make businesses agile, innovative, intelligent, and fully integrated.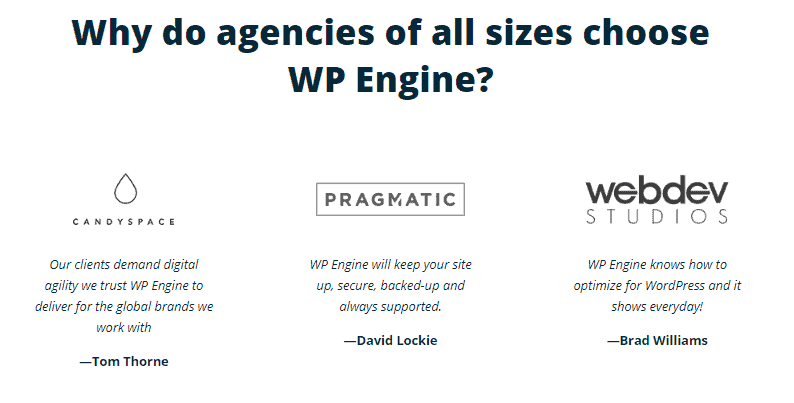 Enterprises
If you want to deliver excellent digital experiences faster, perform flawlessly and boost engagement, get the WP Engine enterprise solution. The team of WordPress experts at WP Engine ensures that your hosting is properly configured and your business is on the right infrastructure to deliver scalable and secure experiences for your customers.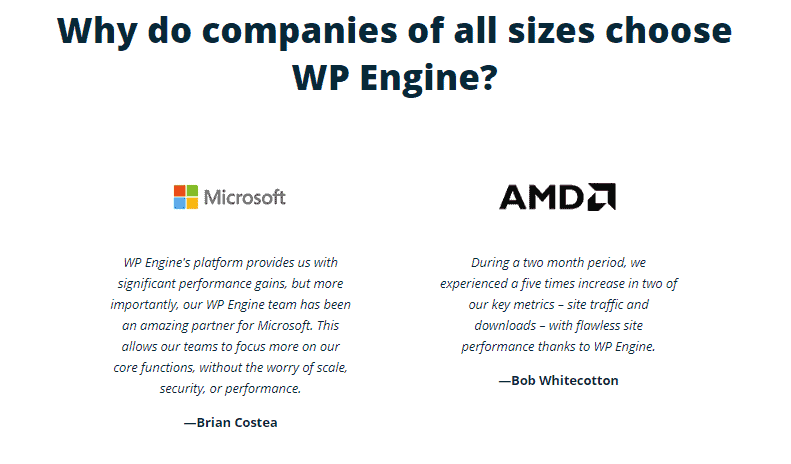 WP Engine Managed WordPress Hosting Plans
In order to deliver its promise to agencies, enterprises, and small and medium businesses, WP Engine has packaged its solutions into plans as follows:
Startup – This plan hosts a single website and accommodates site traffic of about 25,000 visitors a month. It comes with 50GB bandwidth and 10 GB of server storage. The plan starts at $35 per month, but you can get it at a discounted price of $29.17 per month.
Growth – This plan is for businesses in the growth phase. Starting at $115 per month discounted to $95.83 you get access to a platform that can host up to 5 websites, with visitor traffic of about 100,000 per month, local storage of 20GB, and bandwidth of 200GB.
Scale – This plan gives your web resources a higher capacity to handle up to 400,000 visitors a month. You also get 400 GB bandwidth per month and server space of up to 30 GB. The scale plan can host up to 15 websites.
Custom – If you run a large mission-critical website or a large business, the Custom managed WordPress plan is for you. It gives you a dedicated environment with high performance and fast customer support responses. This 100 GB – 1 TB server space plan can host up to 25 websites and handle millions of site visitors.
Outstanding WP Engine Features
WP Engine is a customer-focused web hosting service provider. It has invested in WordPress-specific platform features to give its clients enhanced productivity, security, and scalability. Below are some of the outstanding features.
Customized Environments – WP Engine supports your development efforts through dedicated development, staging, and production environments.
Automated Migrations – Migrating your WordPress site to WP Engine is a breeze, thanks to the auto migration solution. You only need to provide your WP Engine SFTP credentials to the plugin and let it do the migration and heavy lifting for you.
Free Automated SSL Certificates – Cyber threats are everywhere and having a secure way to connect from your browser to the webserver gives your organization credibility online. Every plan at WP Engine comes with a free SSL certificate to enforce connection security.
GeoTarget – Having an efficient content delivery network (CDN) is not enough if the content delivered isn't relevant to the audience. Through geo-targeting, WP Engine helps you to deliver location-specific content that enhances engagements and conversions.
24/7 Customer Support – WP Engine's knowledgeable customer support team is available both on chat and phone support. You can get real-time assistance from WordPress experts at any time of day.
Start WP Engine with 3 months free on annual prepay >>>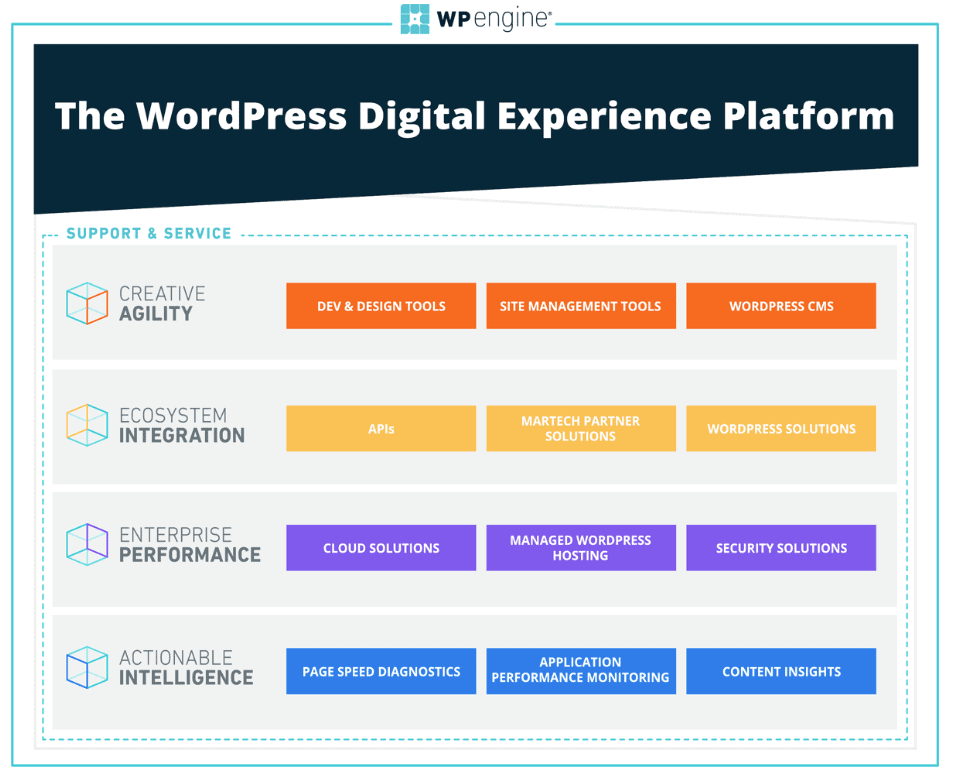 WP Engine Pros
In addition to the exciting features above, WP Engine gives its customers lots of other advantages to enhance their experience.
Automated Backups – Daily backups that give you safety and peace of mind
Multi-Site Conversion – You can easily set up a network of sites using your WordPress installation and turn them off as you wish.
Ownership Transfer – If you are an agency developing a site for a client, you can easily transfer it to them upon completion right through the platform.
SSH Gateway – Through a command line, you can manage any number of WordPress sites using the SSH Gateway encrypted proxy mechanism
StudioPress Themes – WP Engine has a collection of easy-to-use, mobile responsive themes powered by the Genesis framework.
WP Engine Cons
The plans are a bit pricey for someone who is just starting up with his WordPress website.
The lack of email hosting is a downside for WP Engine, especially for small businesses that look for packaged all-in-one solutions.
Conclusion
WP Engine offers key functionalities for agencies, enterprises, and small and medium businesses. If you are looking to establish or solidify your online presence, WP Engine can provide you with a dynamic and scalable infrastructure to achieve your goals. The platform is innovative, properly configured, and expertly managed to offer you real value for money.
If you want to join popular sites such as Microsoft News Center, TechCrunch, The Official Star Wars Blog, and The New Yorker, hosting on WP Engine's managed WordPress platform can be a great starting point.
Have you ever had an experience with WP Engine? Use the comments sections below to share your views and insights.
Start WP Engine with 3 months free on annual prepay >>>
Alternatives to WP Engine
However, becoming a large-scale WordPress site won't come cheaply. It's a solution for bigger companies with larger traffic and needs. If it fits your budget, WP Engine could be a great solution.
For cheaper alternatives, that will suit a hosting for a regular small-medium business, blog, or online store, check out our DreamHost review, VeeroTech review, and SiteGround review.
WP Engine Discount Coupon
Online Tools Expert users get a risk-free 60-days plus receive a 10% discount on personal, professional, and business plans or a 3 months free on annual prepay plan with our WP Engine coupon code.
All you have to do is click on the following link to purchase a WP Engine hosting plan. The discount will be applied automatically to the pricing package that you will choose.
Start WP Engine with 3 months free on annual prepay >>>
Latest posts by Johnny McKinsey
(see all)