Applying CRM software to monitor and operate the relations with customers in a business-to-consumer segment is nowadays not only a modern tendency but a must-have tool to enhance a company's services. With e-commerce CRM software, businesses can enter, store, and organize information that concerns consumers' interplay.
A primary opportunity provided by the CRM is observing behavior patterns as well as tendencies within the business. This article will reveal the value, benefits, and implementation of e-commerce CRM software. Let's begin!
For Whom CRM System will be Highly Advantageous?
As it may be indicated from the concept- the primary parties who profit from such solutions are the entity and consumers essentially. Nevertheless, such instruments are excellent for businesses that put their client base as a priority and want to maximize service quality. You don't have to implement it only due to the fact that other organizations use CRM.
With a devoted audience, your company will be competitive, credible, and solid. To gain it, you should enhance the goods/services the company distributes.
In case your goal is to create an online marketplace and enhance its service with CRM, or to own establishments providing beauty services, then customer satisfaction is the primary focus for you. If the idea and concept of your company are diverse, you don't have to implement a CRM solution only because it is profitable for other businesses.
CRM System in E-commerce Advantages
Let's single out the primary significance and opportunities brought by such software.
Increased sales
Sales managers or the other individuals managing client services have all the data concerning the interactions with consumers on hand. For example, payment and order history. Such in-depth data will help in ensuring a more individual approach which will result in higher user satisfaction.
Demand forecasting
CRM system in e-commerce ensures requirements analysis to project the sought-after goods/services and benefit from them.
Target promotions
Accessible data concerning each client enables providing him/her with personalized offers, discounts, and promotions. It's another method to raise a company's sales.
Enhanced post-deal relations
By accessing all the data concerning the deals, businesses gather more insights about clients and ensure even greater services.
Buyer persona
Creating an ideal client description within your business and understanding your target audience's requirements more is another valuable advantage of CRM.
RMA control
Return Merchandise Authorization (RMA) can serve as an integral part of your system. Why is it profitable? An agent with all the customer relations available is able to assist the audience in overcoming challenges and issues.
Decreased expenses and lesions
Background data driving liquidates the information administration by hand. Therefore, the number of faults is substantially cut down, resulting in an improved serving.
Selecting a CRM Software by Type
To choose a proper and appropriate type for the e-commerce CRM, you should first outline which objectives you want to accomplish by integrating the CRM software.
In addition, it would be useful to explore and analyze the current market to find the existing CRM solutions of your competitors. Then, you should study the features and capabilities of their solution. In addition, it's vital to estimate your budget and how much money you are able to invest in the development of this software. There's an opportunity to select the two types within the CRM software architecture: creating the one from scratch or going for readymade solutions.
So what is more profitable- to build a custom solution or integrate existing readymade variants? To answer this question, it's worth mentioning the range and difference of CRM types:
Software as a Service type
The cloud-based SaaS CRM may serve as an excellent tool for moderate-scale companies/ startups due to no need for additional investments in hardware, software, and employee hiring. All these pros are driven by the fact that all of the data is stored, processed, and accessed via the cloud.
Separate software type
As the name states, this option requires possessing an individual server. Nonetheless, such a high control level ensures higher flexibility as well as easier integration into your workflow.
Custom system type
Such a CRM system meets all your business goals and is developed in complying with your project case.
Undoubtedly, there's no universal template universal for all businesses. As a result, the last option is maximally beneficial for all the domains and companies' scales.
Custom CRM Software: Key Benefits
Firstly, the CRM system's huge advantage is the opportunity to adjust it to the e-commerce entity's workflow. The solution built from scratch meeting the requirements and goals of your company is able to overcome a great diversity of main challenges in this domain and significantly optimize your workflow. Apart from these pros, let's single out some more:
Accessibility for all departments
The entire staff is able to manage and work with the CRM system that has a real-time data refresh. Therefore, everyone gets the latest information to process together, which considerably streamlines the work output. Besides, each team member can get access on a specific level according to the role.
Maximal profit from data
You can involve your company's metrics in the analysis to receive comprehensive insights on performance efficiency. The statistics completed by the CRM system are easier to perceive for you and all the personnel working in your entity.
Higher user satisfaction
An in-depth analysis enables defining the dynamic client and market requirements. Knowing this data, you can generate more leads, expand your business and audience, and deliver a more personalized approach to each customer, turning him or her into a devoted one.
Data organization
Apart from the needs and pains of consumers, this integral instrument assembles customer behavior details, the audience's age, preferences and tastes, hobbies, residential, and much other significant information. CRM software can filter and classify your clients by various indicators and provide utter data concerning each one. 
Accurate sales predictions
The data gathered should result in enhanced performance. The CRM software can also assess the forecasts of generated profit for set time gaps based on a row of metrics. This efficient tool results in a more reasonable resource allocation, planning, and risk evaluation. 
Processes automation
Some tasks in the company may be automated, allowing the employees to focus on more significant and complex responsibilities. To illustrate, your AI-based CRM can generate intelligent automatic email replies to clients' queries.
Those are the driving points that define the high efficiency of CRM in your business.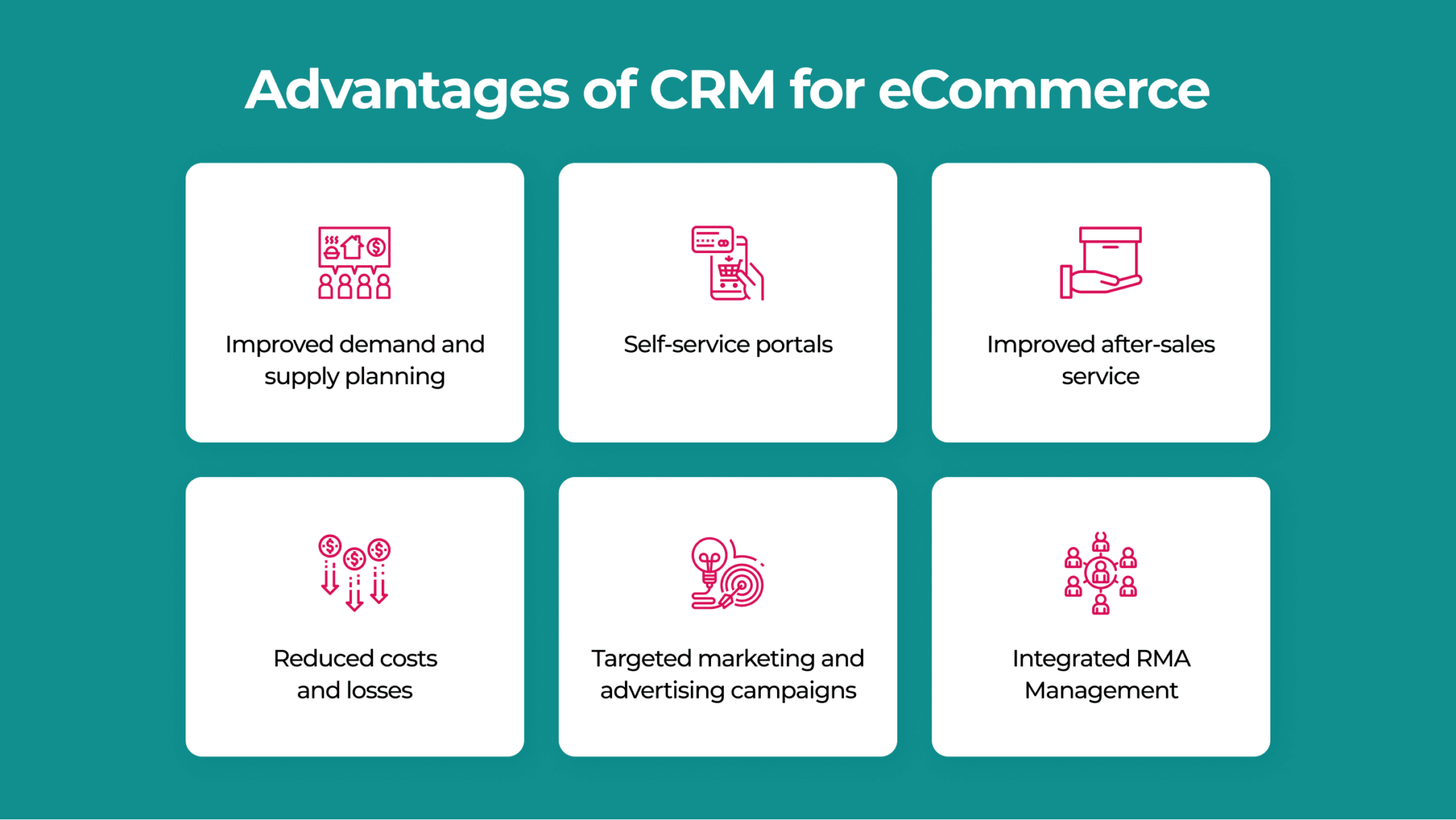 How to Implement a CRM System: The Process Step by Step
Let's now proceed to the stages to complete in order to receive a maximally beneficial business tool for you:
Outline your objectives. Begin with defining what objectives you follow and want to obtain with the CRM implementation. Set key performance indicators (KPIs) in order to assess the efficiency of the software and if the company meets the established plan.
Make up with functionality. The list of features to implement should be based on your business goals as well as the concept. You may also add specific challenges to overcome with this tool. We will suggest some more ideas on essential functionality to apply later in this post.
Team preparation. Your personnel, as well as stakeholders, should be aware of the changes in the workflow with the CRM software implementation and how to use this system. Schedule a call where you will discuss the benefits and guidance on applying the CRM solution. The description should be proper and detailed, so your employees won't look for ways to avoid applying the system. 
Select a partner. Choose a trustworthy software development vendor with considerable experience in the e-commerce industry. For this, read the reviews and the feedback from previous customers. In addition, to make CRM creation affordable for you, explore the market of developers, their hourly rates, and relevant expertise. 
Assess the effectiveness. The set KPIs allow you to define what are the main changes in the company's workflow and if they are positive. According to this information, you will track how they impacted the business performance, sales, and overall user satisfaction from cooperation with you.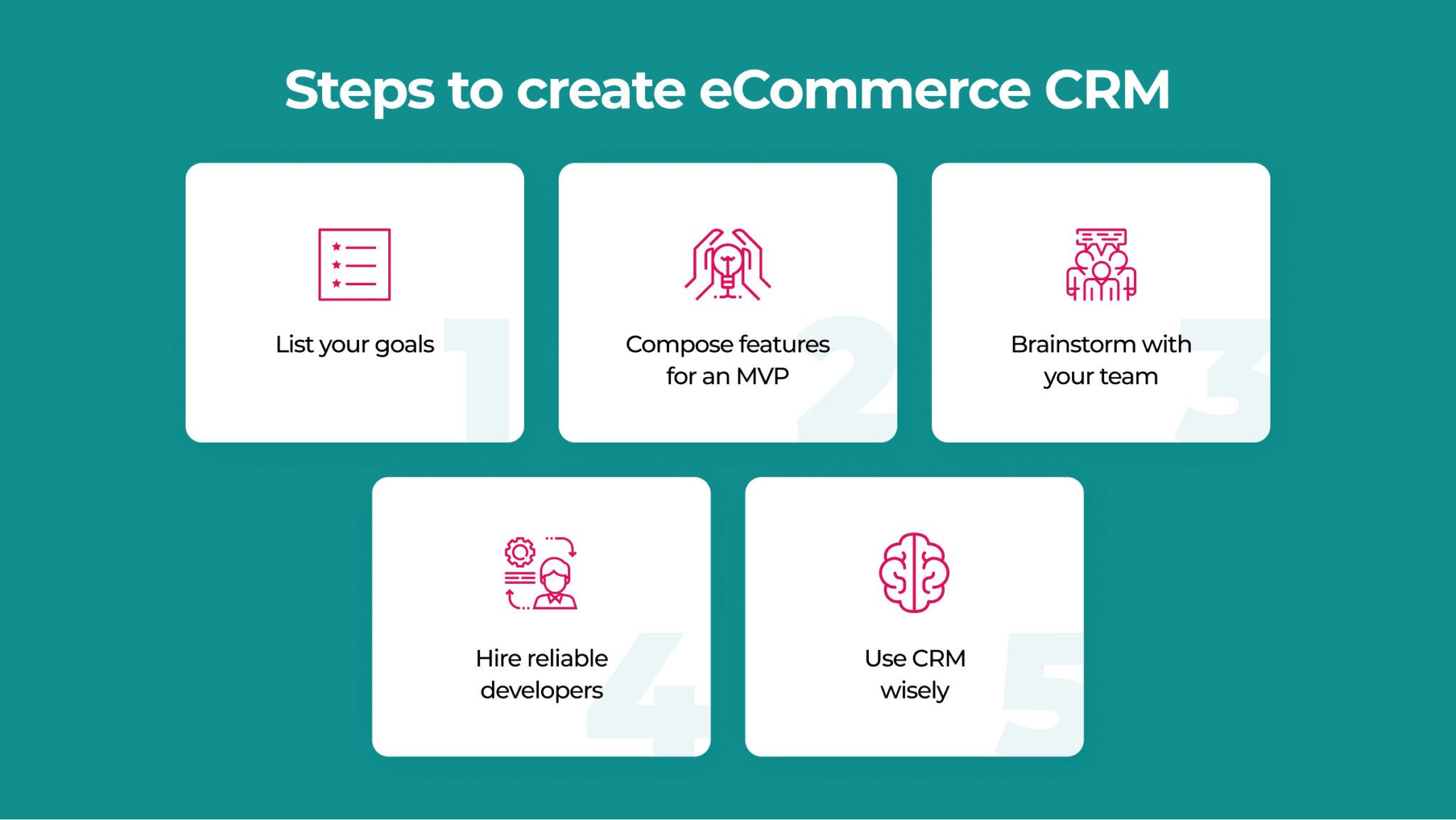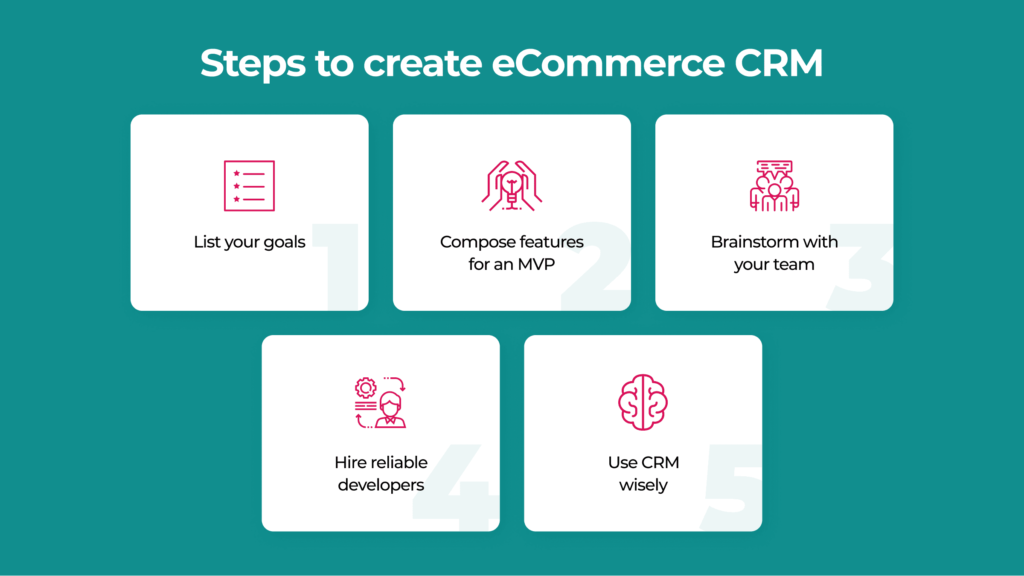 Minimum Viable Product Features for the CRM Software
Here's the row of integral features to implement into the custom CRM solution for the e-commerce domain.
Insights from the market
CRM software is a tool that should allow the detection of current tendencies of the market and benefit from it. This will raise the competitiveness level, user satisfaction, and the entire company's reputation, making it keep up with the current as well as upcoming trends. 
Promotion strategy
Taking into account the concept of your e-commerce entity, this tool should assist you in creating advancement strategies and ways to engage more consumers. Therefore, the campaigns are more efficient and powerful.
Interactions observing
CRM software is a storage of all the activities performed by clients within your business. The information assembled and stored in the system is a way to make more relevant and personalized suggestions to your customers. Thus, the company's sales increase and the customer experience either.
Enhanced assistance
The CRM software is able to automatically transmit the customer query to the appropriate teammate to optimize the workflow and speed up the process of client support and responses, significantly enhancing it.
Dedicated audience
Due to the fact that the history of relationships with users is stored in the system, you are able to make your customers devoted to your company by serving them with an individual and personal approach.
Mailing lists
With the CRM architecture from scratch, your team will be able to perform mailing lists with personal discounts and promotions. When the audience sees relevant suggestions and specific items based on their preferences, the credibility level of the brand considerably increases. 
After building CRM software from scratch containing the basic functionality, you may continue to implement more advanced features to expand the capabilities and opportunities of the system.
How to Select Trustworthy Partners Avoiding Pitfalls
The expertise level is a direct predetermining factor of the CRM software quality. Therefore, let's single out some steps to take to choose and hire the most decent specialists at an adequate price.
Project outsourcing. When choosing this hiring option, you are able to cooperate with developers all around the world and hire specialists with the most suitable hourly rate. In addition, you are charged except for the scope of tasks accomplished with no need to make extra investments like payrolls, hardware, and software, sick days, etc. We highly suggest taking a more precise look at the developers from Eastern and Central Europe. Tech experts, there are pretty talented, and their hourly rates are affordable.
Applying Clutch. This platform is a great tool for choosing tech partners. With Clutch, you are able to check verified feedback, rates, and reviews from previous customers and find out more about the company's expertise. You can set proper filters according to your needs and requirements and start searching.
Portfolio checking. To assess if the potential tech partner is sufficiently experienced in the CRM system created for the e-commerce domain, you should request their portfolio. This way, you will be able to understand whether your requirements will be met in practice.
Selecting web development. Web solution is accessible via any device, operating system, and browser. In addition, you will be able to manage the CRM from the desktop for higher convenience.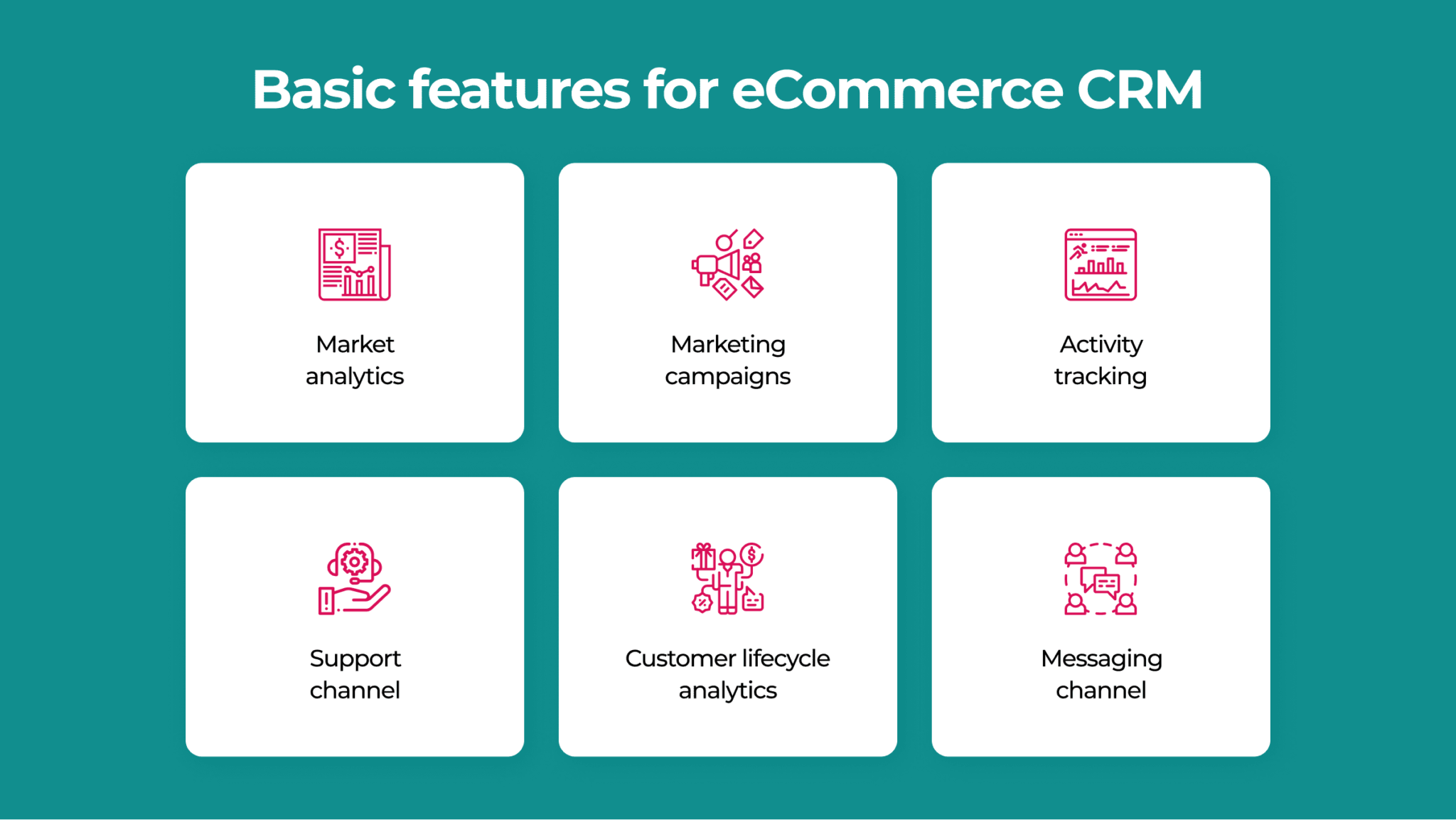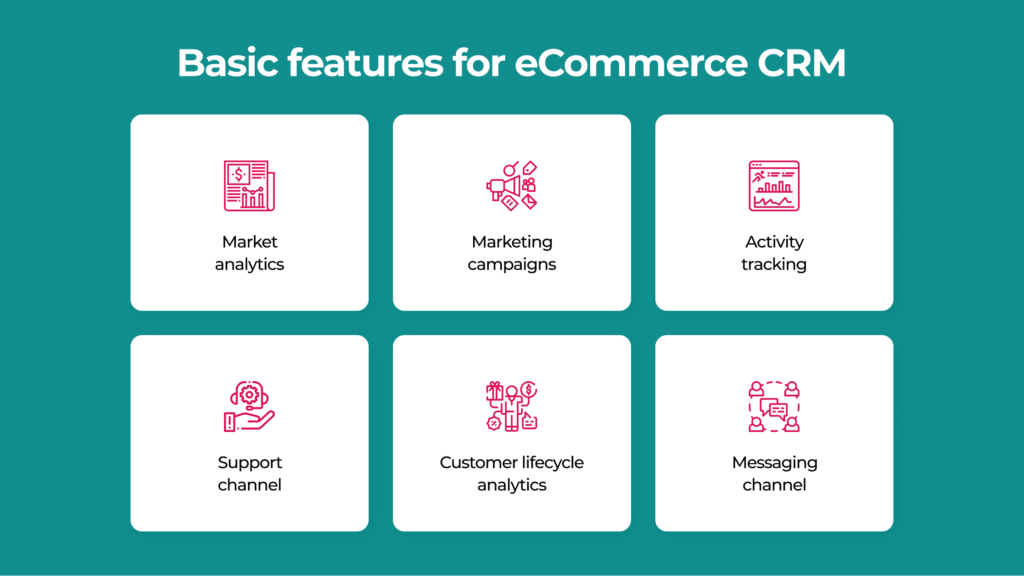 Summarizing
CRM software is extremely advantageous for the e-commerce domain. The insights about the company you receive are profitable and can help to enhance your entire business. Custom CRM is a great tool that will fit into your entity's workflow, raising your competitiveness and solidity in the market. Relationship with customers analysis results in a more individual approach to the audience that will expand your business and rapidly increase sales.
The universal tip to take a maximum from such an instrument is to select credible vendors with proven expertise in CRM software development as well as the e-commerce niche. Besides, your aim is to provide an in-depth description of how to use the CRM system to your personnel and assist them in streamlining the processes and interactions with clients.
Latest posts by Johnny McKinsey
(see all)