Both these tools have become a paramount part of a writer's life. But, which one stands out?
By the end of 2022, there were around 31.7 million active bloggers in the US. Each one of these bloggers works with one aim in mind: writing content that ranks higher in SERP. Moreover, writing something that outshines the competition. 
However, with 70 million blogs being published every month on WordPress, it's nothing less than a monumental challenge. Therefore, writers work around the clock, churning out words, day in and day out. All in hopes of writing blogs that rank higher in SERP.
But, all this work also halts productivity sometimes, and that's when tools like Paraphrasingtool.ai and Paraphraser.io come to the rescue. So, which one of them does it better?
Moreover, what is it that these tools even provide? In order to understand just that, let's dive in deeper and see their difference and review their various offerings.
What is Paraphraser.io?
Paraphraser.io is an AI-based paraphrasing tool that offers you a remarkable array of options. Besides being a paraphrasing tool, it presents itself as the complete package for writers today. Why is that? Because it offers tools such as:
Paraphrasing tool with three content tones
Paraphrasing up to 13 languages
Five accompanying tools
Grammar & plagiarism checker
Text summarizer and citation generator
An informative blog
These remarkable arrays of options from this tool make it one of the leading paraphrasers available on the internet. While it easily triumphs over some conventional tools like QuillBot, it can help you extensively by detecting and avoiding plagiarism.
Being able to find all these options under one radar seems to be one of the leading factors behind the success of this tool.
Pros
Rephrasing in three content tones
Natural content flow
13 languages supported
Five accompanying tools
Cons
What Is Paraphrasingtool.ai?
Paraphrasingtool.ai is quickly becoming the leading paraphrasing tool on Google. This remarkable tool burst onto the scene recently and has since swept the writing world with its great options. That's why it's one of the most-used paraphrasing tools available today.
What does it offer?
Astounding natural paraphrasing
Thorough summarizing of long-form texts
AI-Content Generation to burst out of writer's block and generate new ideas
Plagiarism checker to detect any duplicity
Grammar checker to get rid of errors
Besides this, it also offers an informative blog, with daily updates on how to improve the content in all forms of writing. The tool claims to offer 1 solution to five writing problems, and it's clear to see why.
With the options that it provides for free, it's almost too good to be true. That's what makes it such an excellent tool for writers today.
Pros
Remarkable paraphrasing abilities
Thorough plagiarism check
Content generation with AI content generator
Informative blog
Cons
Key Differences Between Paraphraser.io & Paraphrasingtool.ai
Both these remarkable tools make it really difficult to pick the one that stands out. While we'll be testing their prowess, here's a table to understand just how well-matched they are:
| | | |
| --- | --- | --- |
| Paraphraser.io | Tools/Offers | Paraphrasingtool.ai |
| Yes | Paraphraser | Yes |
| Yes | Summarizer | Yes |
| No | AI-Content Generator | Yes |
| Yes | Article Rewriter | No/Paraphrasing Only |
| Yes | Plagiarism Checker | Yes |
| Yes | Grammar Checker | Yes |
| Yes | Citation Generator | No |
As you can notice here, these tools are evenly matched. Where Paraphraser.io offers Article Rewriter, Parpahrasingtool.ai offers AI Content Generator. So, there's only one way to find out which one is better.
Testing Paraphrasing In Both Tools
Since both these tools have paraphrasing in their titles, we'll start by checking their paraphrasing first. We've picked a sentence with bad delivery and lack of flow for this test. Here's the sentence:
"The content needs to deliver in every aspect. For it to stand out in SERP ranks or deliver in Academic writing, the text must be of top-notch quality."
As you can see, the sentence is nothing special. So, can these tools fix them?
Since Paraphraser.io offers three content tones, and its competitor doesn't, we've decided to keep that setting at default. Upon testing, here's the result:

The tool has made some necessary changes, which it colors in green. As for the fluency, it has definitely improved from the original version. Now, can Paraphrasingtool.ai do the same?
Paraphrasingtool.ai is a remarkable tool with leading AI tech. That's why we have greater expectations from it. But, since it doesn't offer any tone options, let's see how it deals with it on default:
The results are impressive, to say the least. The content isn't only vastly better than the original, but it's also way more fluent. This comparison tells us that both these tools are great at paraphrasing. 
Checking Plagiarism
Checking plagiarism is one of the key essentials for any writer today. It can help you determine the amount of duplicity in your content. So, let's see how these tools help us do that:
Paraphraser.io offers a captcha check before you can check for plagiarism, so here's what it would look like:
As you can see, the suspected plagiarized content is pasted here. So, upon scanning, this is what we see: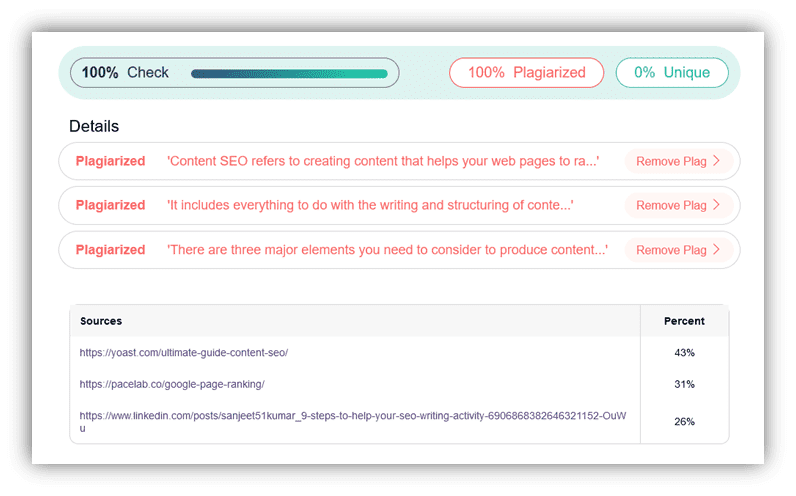 The tool has effectively caught all the sources from this content that were plagiarized. Besides the overall percentage of duplicity, it also shows the sources from which individual content was taken, and this is highly convenient.
Paraphrasingtool.ai is the minimalistic leader in the writing industry today. That's what it portrays in its uses as well. Here's how it detects plagiarism: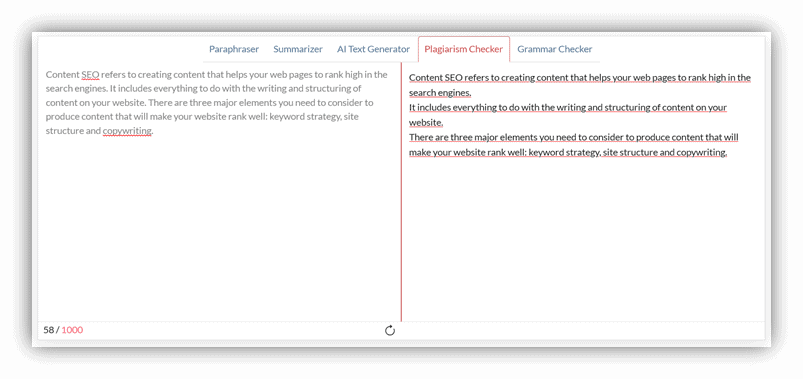 As you can notice, the content is underlined in red, so that means it's plagiarized. How do we know? Because this is what happens when you check original content with it:
Here you can see that the content is underlined in green, which means it's original. However, lack of source or percentage puts Paraphraser.io slightly ahead of Paraphrasingtool.ai in this case.
Summarizing With
Let's try summarizing a text with both tools and see what happens:
Paraphraser.io offers a unique summarizer, as it detects the necessary bullet points from a text. Here's how:
As you can see, the tool offers you the key points present within this content. You can use this summary or choose the points to write your own.
Paraphrasingtool.ai is a remarkable tool for summarizing. Is it better than Paraphraser.io? Yes, and here's why: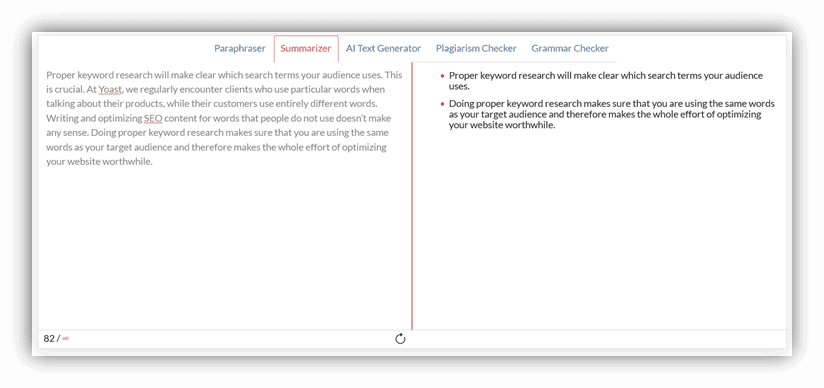 As you can see here, the content is much more descriptive than the previous tool. This proves that Paraphrasingtool.ai is better at summarizing.
Checking Grammar
Last but not least, let's check grammar with both these tools:
Paraphraser.io actually acts as a grammar checker, and here's why:

As you can see, it has thoroughly detected spelling errors. However, the changes in the content you'll have to do on your own.
Paraphrasingtool.ai, on the other hand, acts as a grammar corrector rather than a checker. That's why, when you paste the same content in it, here's what happens: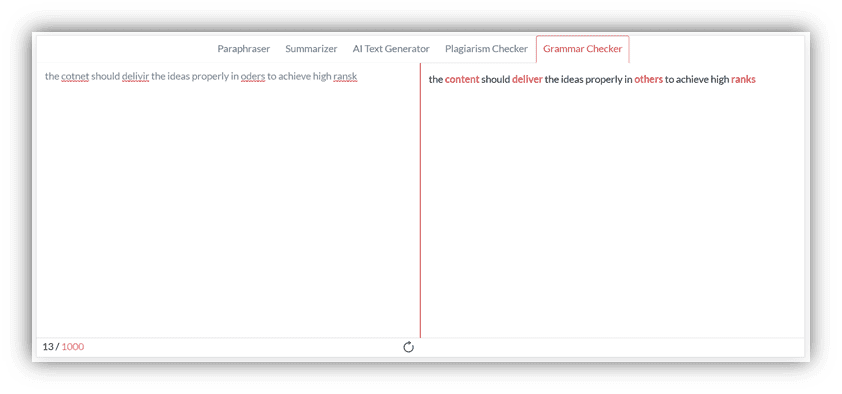 As demonstrated here, the content is corrected on its own (marked in red), and you don't have to do anything. So, Paraphrasingtool.ai scores convenience points.
Conclusion: They Both Deliver
What's the verdict then? Which tool is better to write your plagiarized free content? 
In paraphrasing, both these tools delivered.
In plagiarism checking, both checked thoroughly, but Paraphraser.io stood ahead with details
The grammar checker test was won by Paraphrasingtool.ai
Summarizing was better with Paraphrasingtool.ai
While on paper, Paraphrasingtool.ai is better, Paraphraser.io isn't too far behind, and it was demonstrated throughout this article. It all comes down to your preference.
Latest posts by Johnny McKinsey
(see all)