The price to make an eCommerce website can vary from $26,400 to $99,700 and up. No developer can tell you the exact price until they know your requirements: what features you want to add, design, integrations, etc. Especially if you intend to build a custom website, bypassing out-of-the-box solutions.
In this post, I'll flesh out the cost to develop an e-commerce platform based on the core features. Also, you'll learn what factors influence the final price.
The estimate here is based on the average hourly rate of $50/hour in Eastern Europe.
Average Cost of E-Commerce Website
As I've mentioned earlier, the price of developing a tailored-made eCommerce website can reach $99,700+. You may consider this sum creating the website from scratch. A ready-made solution will cost you less, but it's a good option for short-term needs.
Why are customer websites better? There are a bunch of reasons. The main ones are page loading speed, adaptability, and Google loves them more. Besides, you can create exclusive UI designs and stand out from the faceless mass. The more complete your website is, the more customers you may attract. Besides, ready-made templates may not be as secure as you expect your website will be. Security's vital when you handle customers' personal and payment data.
Now, let's reveal the main factors influencing the price. To make the process easier, I've split the e-commerce websites by their complexity, from simple ones to websites with complex features.
Large e-commerce sites must be well-organized to manage high loads and rank well on Google. This is one of the reasons (along with unique design, number of pages, etc.) why e-commerce site costs can go up. By the way, the tech stack will also vary depending on the project. For example, simple websites don't require push notifications or coupons compared to large-size platforms.
What Factors Affect an E-Commerce Website Cost
To make it clear, the main cost drivers are:
The number of features and their complexity
Web design difficulty
Number of 3rd party integrations
Developers' rates
Let's consider them in detail.
Features: Number and Complexity
The intricacy of tech requirements depends on the website's size. Respectively, the cost to develop an e-commerce website grows either.
Screens, buttons, fields, and logic affect the final price. Moreover, the developers may need to integrate APIs (e.g., payment systems or social login) or design from scratch. All these points matter a lot.
I'm going to estimate e-commerce development cost feature by feature. But firstly, look at the list of must-have pages:
Main page
Shopping cart
Favorites
Check out
Blog
Category pages
Product pages
And the core features:
Integration with payment systems (Stripe, PayPal, Dwolla)
Push notifications
Recently viewed products
Products' rates and reviews
Search bar with filters
Admin panel
Custom Website Design
The same dependence on e-commerce website design cost: the more complicated your website design will be, the more time developers will spend implementing required elements.
Design isn't only a bright picture. It should provide customers with a fast, clear, and simple select-buy process. Or even push them to purchase.
Moreover, if you plan to add some animations or ask designers to prepare 2-3 visual concepts (it requires additional time), be ready for higher website costs.
Another point: you may want to design a website that renders well on mobile devices. In that way, you need to consider adaptive web design costs. It's the right choice if you prefer your web pages to go together with various devices, including smartphones (so you don't need to develop native iOS and Android applications for mobile users separately).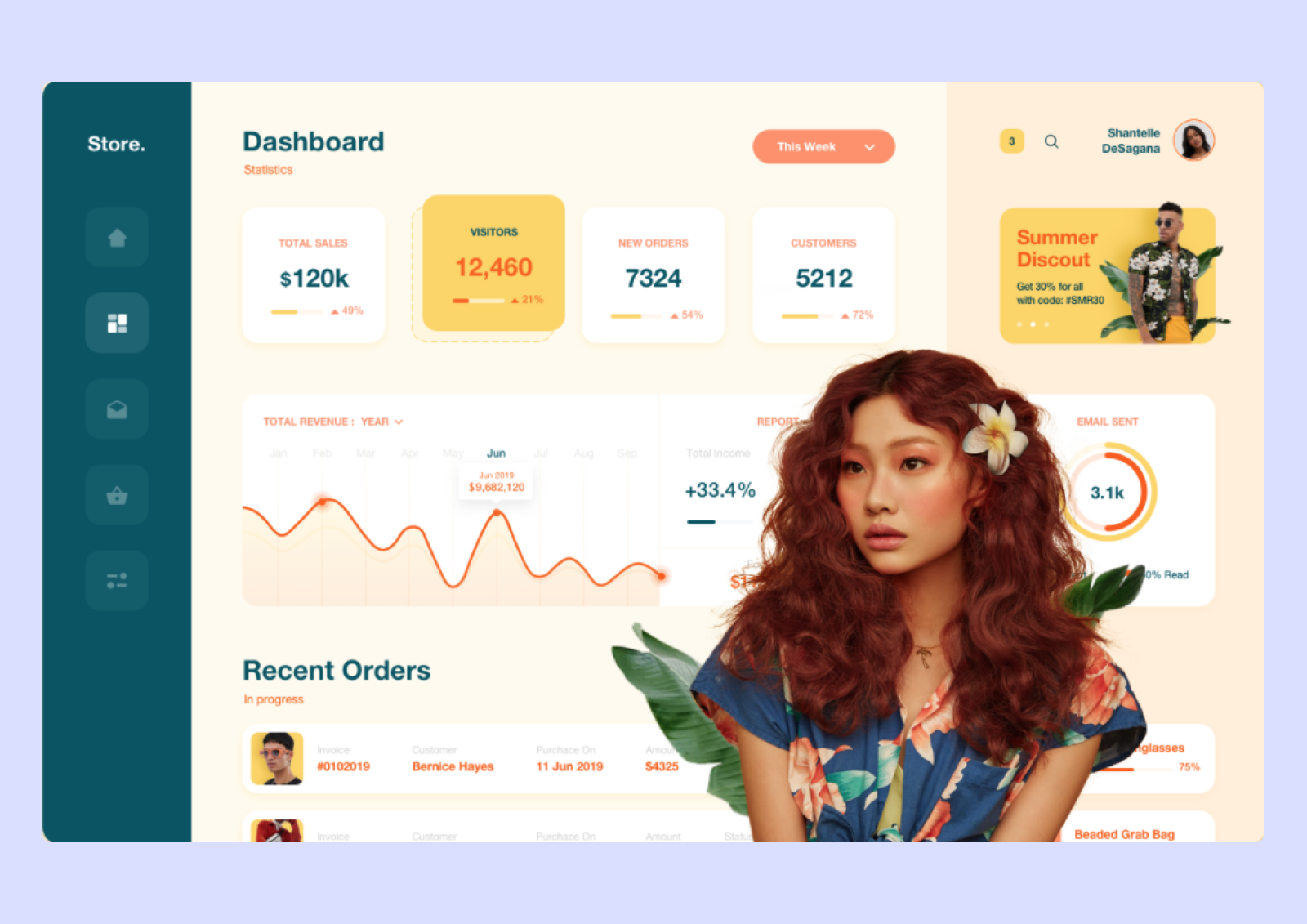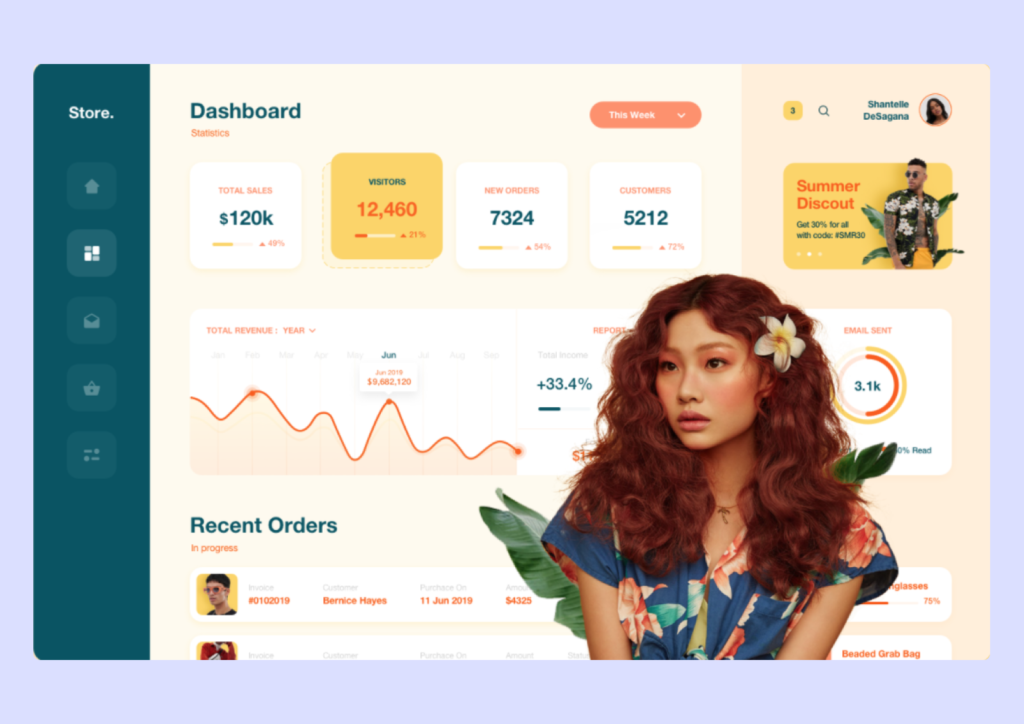 Number of 3rd Party Integrations
If you want to incorporate 3rd-party tools, add an online chat, or adjust shipping options, you'll need to pay extra money for your project development.
Payment gateway integrations allow you to sell your products online and provide secure transaction processing. Let's consider the most popular payment integrations – Stripe and PayPal.
Stripe charges 2.9% + 30¢ per successful cash transfer. PayPal charges the same price, but they also take 5% + .05¢ for payments lower than $10.
Want a robot assistant to contact your clients when orders are sent? Or send them notifications in WhatsApp? Twilio APIs (programmable voice or SMS) is the right choice. It stands for a cloud communication platform that allows users to text, make a call or start a chat from their websites.
Let's look at the Twilio price policy:
$0.0045 to convey a WhatsApp message
$0.0080 to pass on or get a message
$0.0090/min to get and $0.015/min to place a call
Again, it requires additional time for integration (not much, though).
Another example is emails. It's a must-have channel if you're planning to notify customers about their orders being prepared or delivered.
It's a good idea to utilize the Amazon email sending service (Amazon SES). You'll pay $0 for the first 62,000 emails you send each month. And they take $0.10 for every 1,000 emails you send afterward.
Developers' Rates by Country
Software developers' rates also affect the final price. The specialists who have experience in similar projects will charge more compared to non-experienced ones. Besides, website development services in Eastern Europe or India cost less than in Canada or the US.
Here are the average cost to make an e-commerce website in different country (per hour):
Canada – $100 – $149
United States – $100 – $149
Israel – $100 – $149
Australia – $100 – $149
Sweden – $100 – $149
United Kingdom – $50 – $99
Germany – $50 – $99
Norway – $50 – $99
Switzerland – $50 – $99
Latin America – $30 – $50
Ukraine – $25 – $50
However, a high price doesn't guarantee that you'll get a well-architectured website. Some software development companies provide high-quality services at an affordable price.
But not so fast. I've discovered the basic factors of e-commerce website price, but it also requires additional expenses like:
The domain name ($10 to $20/annually)
Hosting ($100 to $200)
SSL certificate ($6 to $150)
Maintenance ($500 to $12,000)
Finally, if customers don't know about your e-commerce platform — there is no sense. That's why it's essential to add marketing expenses to your business plan. Here are some of them:
PPC advertising (the cost depends on the competition level of the keywords)
SEO (the month price can vary from $300 to $1,500 on average)
Copywriting (from $60 per article)
SMM (the price starts from $500 per month)
Now, let's move to the most significant e-commerce website cost driver – features.
E-Commerce Website Cost: Estimate by Features
Content, design, and the domain will definitely affect the final. However, features that you want to add to your website will take up a tidbit from your budget.
Let's examine how much time the developers need on average to develop an e-commerce platform for basic features (frontend part).
To make it easier, I've combined the features into modules. The time was calculated per module.
Module 1. Registration:
Register using email and password
Login using social media
Logout
It takes approximately 56 hours to implement this module.
Module 2. Main screen
Watched products
Last purchased products
Popular products
Developers will need 96 hours to carry out this module.
Module 3. Catalog screen
It'll take 24 hours to enforce this module.
Module 4. Product details screen
Photo slider
Rate
Add review
Module 5. Cart
List of products
Checkout
It takes approximately 112 hours to implement this module.
Module 6. Profile
Edit profile
Orders
Payment screen
The team will need 64 hours to carry out this module.
Module 7. Help screen
Terms and conditions
About company
Feedback form
It'll take 32 hours to implement this module.
Module 8. Push notifications
It'll take 16 hours to enforce this module.
Module 9. Analytics integration
Developers will need 16 hours to carry out this module.
Given these points, it'll take 456 hours to build a front end of the e-commerce website.
All e-commerce websites need an admin panel to operate items, users and give access to employees. Keep that in mind to accurately calculate the price of building an e-commerce platform.
It will take approximately 456 hours to build a back end of the website. So, the development team will spend 936 hours in total developing an e-commerce website. Remember that you may need other specialists (UI/UX designer, project manager, QA engineer, business analysts) on a team to develop a full-fledged website from scratch.
Considering the amount of work, it'll cost you approximately $99,700 to create the e-commerce website.
Tech Stack of an E-Commerce Website
After we determine the price, let's consider what tech stack the developers need to design such a complex product from scratch.
Front-end part:
Angular
Angular Universal
UI elements libraries
Backend:
Nodejs + TypeScript
PostgreSQL or Mysql
Elasticsearch
Redis
BullMQ
3rd party elements:
Amazon SSS
Amazon SES
Paypal, Stripe, etc
Firebase Cloud Messaging
Login through social network API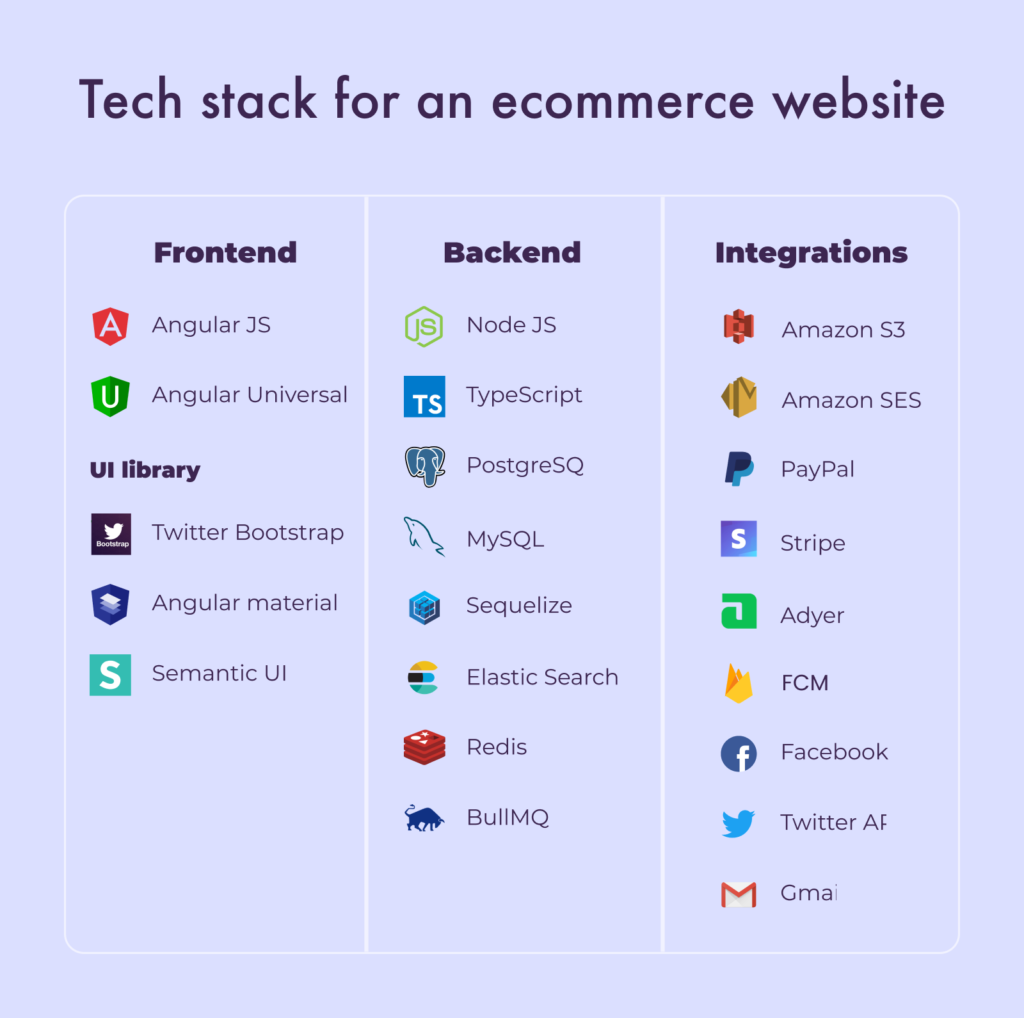 Wrapping Up
Hopefully, I've explained how to calculate the price to start an online business. As you can see, you need to address various factors before making your eCommerce site.
If you want to create a simple eCommerce platform, you can use ready-built solutions (e.g., Magento, Shopify). But if you tend to boost your business growth and get as many clients as possible, then a custom eCommerce website will be the best choice.
Latest posts by Johnny McKinsey
(see all)