Starting an eCommerce business is like offering a product or service to the masses. You are not limited to a city, state, or country. Your client or customers can be browsing your store from another part of the world. Additionally, running an eCommerce is affordable if compared to the brick and mortar shop where you pay the rent and bills, and hire employees and other cleaning staff.
Break the shackles of selling routine products to a community by starting an online business that aims to serve millions across the world. Statistica reports that about 80% of consumers across the world shopped online in the last year. Online buyers are increasing with every passing day. Why miss such a profitable opportunity? Start your eCommerce business today by following the steps described below.
1. Exploring eCommerce
Ecommerce is huge. For a layman, it may be simple website creation, but deep down it involves various technologies and platforms. To start an online business, you must have an eCommerce platform, where you can sell products with the ability to accept payments online and a complete mechanism of orders and customer management. 
Initially, most eCommerce startups don't have enough budget to develop a dedicated platform where they are the sole sellers. Therefore, they start selling on famous marketplaces like Amazon, eBay,  Walmart, etc. as soon as they grow in sales, build a brand, and are ready to build a business website from scratch or with the help of eCommerce platforms. Magento, PrestaShop, and WooCommerce are a few worthy to mention in using eCommerce software as a service.
So, the first step is the selection of an eCommerce platform. You will have to decide – according to the budget – either to start on a personally owned eCommerce website on WooCommerce, Shopify, or any other platform (in any case – remember to avoid EIG hosting providers) or use a marketplace. Getting a website gives you complete authority, whereas, opening a store on a marketplace restricts you in many ways. The first option takes time to attract customers but marketplaces are flooded with their user base. Both have their advantages and disadvantages so choose according to your business requirements and the goals you set. 
2. Selecting a viable product
The key to making eCommerce an overnight success lies in the selection of products that are high in demand, low in competition with higher profit margins. Finding such products is hard as everyone is coming to the eCommerce market with the same mindset. There are various business models for you to follow. If you already have a business and want to digitize it, you must put the same products or services in your online store. However, starting a new online business may require you to do research, testing, and evaluation. Things to consider in product selection:
Competition – is found in every form of business. Check if you can gain an edge by reducing the price, improving the product, or innovating a new service from it. Build a strong relationship with suppliers to grab discounts on bulk orders. Use interactive media channels that are not used normally in your industry. 
Market share – Evaluate the sales volume and revenue to measure the market share of your competitors. It gives you a probability for your products or brands to penetrate the market. Providing good quality in an average price range will surely help you secure a fair market share. Consider price-cutting and spending on promotions.
Customer base – Assess your customers. You must know the people who would like to take interest in your products or services despite the fact they are buying from the competitors. If they find it well, they will surely be converted into loyal customers.
Niche products – A niche is a small section of a market where you can build authority and create a monopoly. Choose a specific range of products or services within a market and get recognized as an icon for it.
Product selection goes on to continuous research and development. It leads you to recognize marketing mediums, tools, and platforms effective for the specific type of your business. Setting a brand message, product description, and adding a story to it is also worth considering for creating an impact in the market. 
3. Study the trends
In general, eCommerce is highly driven by trends and seasonal fluctuation. Despite the usual industries like food and grocery that are considered to be safe from seasonal fluctuation also have to face ups and downs. It is the fashion, beauty, and tech industry that is affected the most. Celebrities endorse new clothing brands, cell phones, and skincare products that set new standards for the general public to follow.
If you are a beginner in eCommerce, you must look into the ways you can cater to your audience with the trend they like to have. As soon as your business is recognized as a brand, you get the authority to break the stereotypes and set new style trends that will be unique all and followed the most. 
4. Get your business registered
Choose a business name and decide the legal structure you would like to carry. You can open an online store as an individual (also known as a sole proprietor), go into a partnership, and incorporate it as a private company. It depends on the investment you bring to the business and the human personnel you will need to run the online shop.
Online stores do need registration with the government agencies that are governing taxation, legal, and import or export matters. Obtain permits and licenses to ensure the smooth and seamless operation of your business. Acquire compliance with health and safety regulations, sales registrations, etc. as well.
5. Producing or sourcing a product
The product you choose to sell must either be manufactured or sourced. Look into the ways you can produce it. It can be getting raw material or partly-complete products and finishing them at your manufacturing facility. To save finances on processing units, you can choose to source finished products straight from the manufacturers, wholesalers, or suppliers.
You can search for a list of products and their possible suppliers. Reach out to them to seek their terms and conditions, and get affiliated. They often have the condition of minimum and maximum order amount or quantity. Agree with them to remain at peace. However, you have another product supply and distribution model to choose which is dropshipping. It removes the need to order and manage stock. You get the order, retain a profit cut, and forward it to the supplier. They ship with your details and revenues are generated.
For starting a service-based eCommerce business, you may need to invest in building a portal. For example, booking appointments for your consultancy business that may be about visa, career, business, marketing, accounts, real estate, etc. The service industry is huge as it allows selling your skills, knowledge, skills, and expertise. You will not need to strive for products. However, the same time and energy are required to find the right service to sell online.
6. Go Live and Promote
Add products to your store and it's ready to attract customers. Make sure the domain name is easy to remember and the same as your store name. you might have selected Magento or WooCommerce, or a marketplace, pay attention to optimizing the product pages. these should load faster in users' browsers. The design may also need modifications with the time so keep your web developers and designers on board for quick and reliable changes.
Now that your store is up and running, it is time to start promoting it. targeting users from search engines may require you to research the key terms and add them to the title and body of the product pages. For quick marketing and better return on investment, store owners need to consider search engine advertising too as it quickly displays the products against relevant searches to the users. If you need any freelancer help, you should consider getting started on Fiverr to hire some. Use different social media networks to spread the word and amass users with post likes and other interactions.
Add traditional marketing mediums as well to your promotions like running ads on mainstream media including TV, radio, or publishing press releases in popular newspapers. Distributing flyers and brochures with your bundle offer are still working and useful for attracting the local community. 
7. Maintain and Expand
An online store requires continuous maintenance. It requires security patches and functionality updates. Hire web development agencies on retainer ship to ensure minor issues are dealt with before a major breakdown. For example, if you are using the Magento eCommerce platform and a new version is released, you may need to update the online store to avail the enhanced security, performance, and functionality of the platform. Besides this, you must also keep an eye on expansion plans.
As soon as your online business grows, you may need to target more regions and people of different ethnicities. To reach them effectively, you may need to add the products in other languages to establish it as a multilingual store. There are plugins and extensions to enhance the functionality of your existing store. You will be able to manage multiple region-specific stores from a single dashboard. such an expansion means getting profits from multiple stores by managing one. 
Final words
Starting an eCommerce business is not difficult. It is an open choice as anyone can start it. However, the one who is wise enough to choose the right product and tap a demanding market leads the way to success. I hope the steps I have discussed in starting an online store will help you set up one for yourself, however, there are countless eCommerce development agencies to seek help from.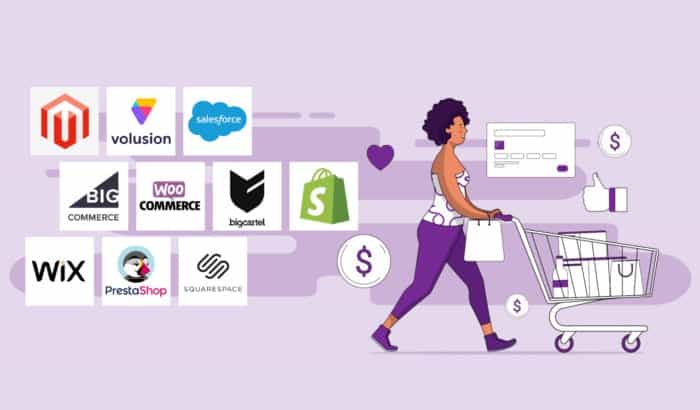 Latest posts by Johnny McKinsey
(see all)