If you're a business owner and looking for smart ways to improve your organic traffic SEO marketing strategies, you have come to the right place! There are many ways to check and improve backlinks. This article will guide you in utilizing those backlinks. So now, let's start with the basics.
What Are Backlinks?
Technically, a backlink is a link to one website that connects to another website. These can come in the form of hyperlinks in many blogs, social media posts, and articles. Backlinks are usually there to provide additional information to the readers or visitors. These connections create traffic to your website that improves your visibility, authority, and value to your site.
Backlinks are generally measured by search engine crawlers (Google scans your site and other sites with bots all the time, and maps the existing links) and have been used as an essential parameter when it comes to monitoring online businesses.
The more traffic and backlinks you get from authoritative websites, the more quality it gives to your website. Hence, your ranking will be better.
Why Are Backlinks Important?
Google uses an algorithm in measuring the ranking of each website. Backlinks can be considered the most crucial factor as Google examines backlinks to your website to determine if the content is of value. Other websites will like to link with you if your website is reputable and useful, and Google will view it as a positive factor.
Having more backlinks linking to you will earn your branding as well. Many people will get to know you since you are connected to some of the websites they have known or trusted for a long time.
When we have backlinks from different reputable websites, it creates a long-lasting relationship with them. This is crucial in keeping things going, and your visitors and search engine crawlers (Google) will consider that your website is a trustworthy place.
Backlinks Create More Credibility and Trust
Backlinks help in creating the credibility needed by business owners to promote their products or businesses. It can also help in targeting your audience.
Hence, more traffic means more engagement. And, more engagement means more businesses. This is the only traffic we can accept with open arms!
On another note, we need to make sure that the only websites we are linking to ours are the most trusted ones. If you are being linked to spam websites, the audience will likely consider your websites to be untrustworthy. It is highly suggested that you reject any links that come from poor-quality sites to keep your credibility to your audiences.
How to Get Backlinks?
Once you know the importance of backlinks and search engines, you will start to ask yourself the first step to get that links going. There are many ways to get backlinks, but you need to be careful that you don't violate Google's rules, or else, you may get de-listed. You can look for quality links on Fiverr, but you will have to know to filter the low-quality ones. Here is a high-quality one for example – https://www.fiverr.com/johnny_fortune/publish-high-quality-seo-guest-post-with-dofollow-backlink-on-my-website
You may also start to think of any other websites trying to link their pages to you. A backlink checker tool will help you with that. The below information will help you earn more backlinks and monitor each backlink for your business.
8 Easy to Use Backlink Checker Tools
Knowing how to check backlinks and using these tools will help you understand if your current website requires improvement. It will also help you monitor the sites you need to disavow. 
You can utilize many applications to help you monitor your backlinks and build your long-lasting ranking and credibility in the digital world. Below are the most popular tools used in the current market.
1. Moz Link Explorer


PRICE: Costs $99 – $599 per month with limited free versions.
Moz Link Explorer works by entering the URL or website that you want to get details. Once you created an account with them, it will link you to Link Explorer and other SEO free tools you can utilize in a comprehensive analysis and metrics for any page or website.
It has the Page Authority and Domain Authority that clearly analyze the link metrics. Below is the list of amazing features they offer:
Reviewing inbound links
Finding broken links to your sites
Monitoring if you have new or lost links by date
Anchoring text data for analysis of every domain
Competitor research
Finding who links with your competitors
Authority checker
Avoiding suspicious links that are trying to connect to your links
All in all, this tool is an easy application that will provide you with good results in a few seconds.
2. Ahrefs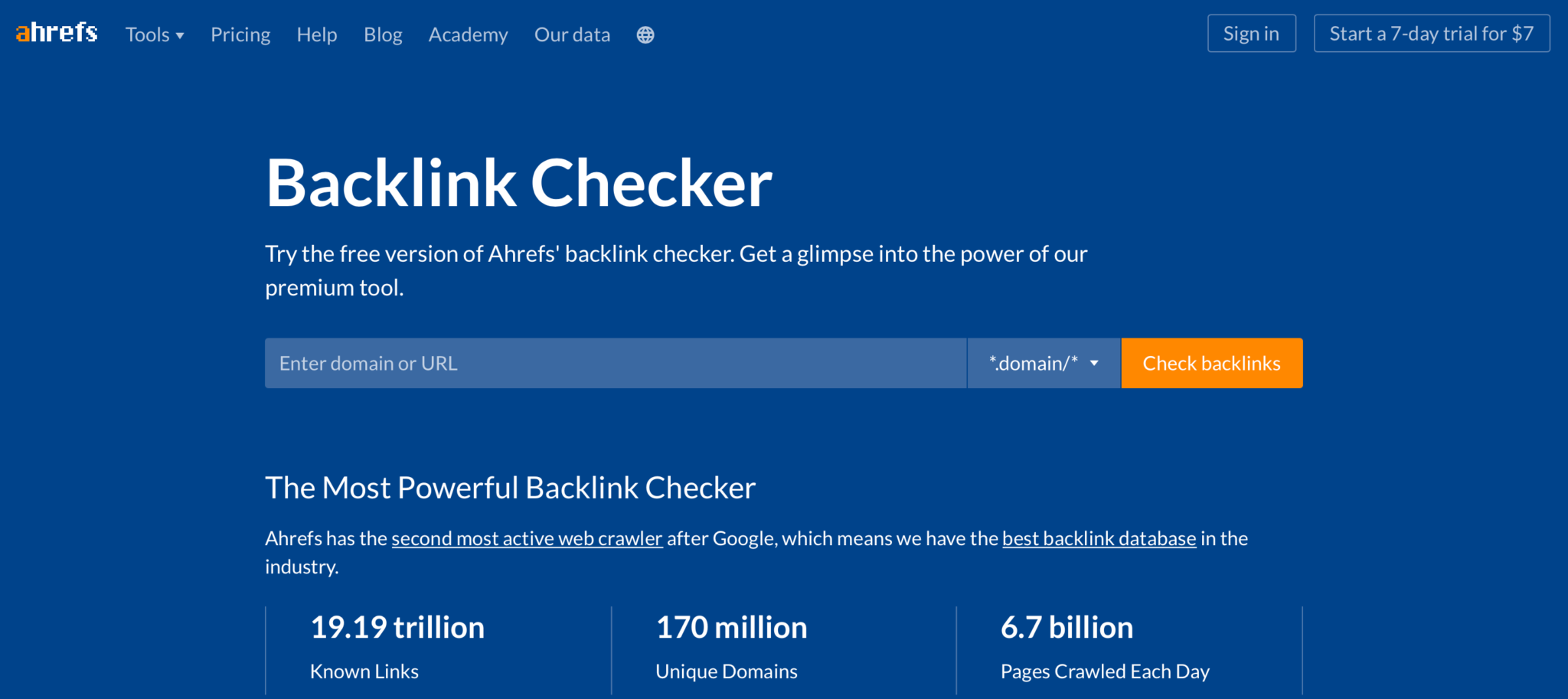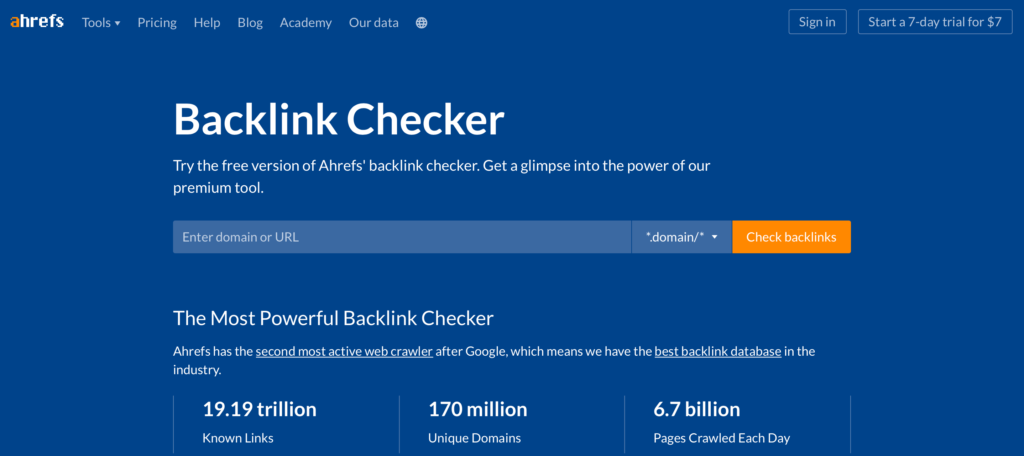 PRICE: Costs $99 – $999 per month. The one-week trial will cost you $7.
Ahrefs is considered one of the best backlink checkers in the market. It is fast, dynamic, and easy to use for backlink analysis, rank tracking, keyword research, SEO audits, and competitor research. It provides quality data for useful information and insights that will help you study your marketing strategies quickly.
You can enter any website or URL in the tool to see perceptive metrics about any site. It also can monitor any activities related to the growth and weaknesses of your backlinks.
It also has the functionality to dive deeper into the data based on specific keywords. Based on all features this application is offering, we can say that this tool works fantastic.
3. Majestic

PRICE: Costs $49 – $399 monthly.
Majestic can easily find out who links to your pages. It can map the web to analyze what metrics you need to improve on your marketing strategies for your online businesses. It uses trust flow to determine the quality of backlinks and citation flow to measure the number of links given to any website.
You can also study your competitor's website for more ideas for creating link opportunities. It has another great feature that can filter by topic, language, industry, and more.
4. SEMrush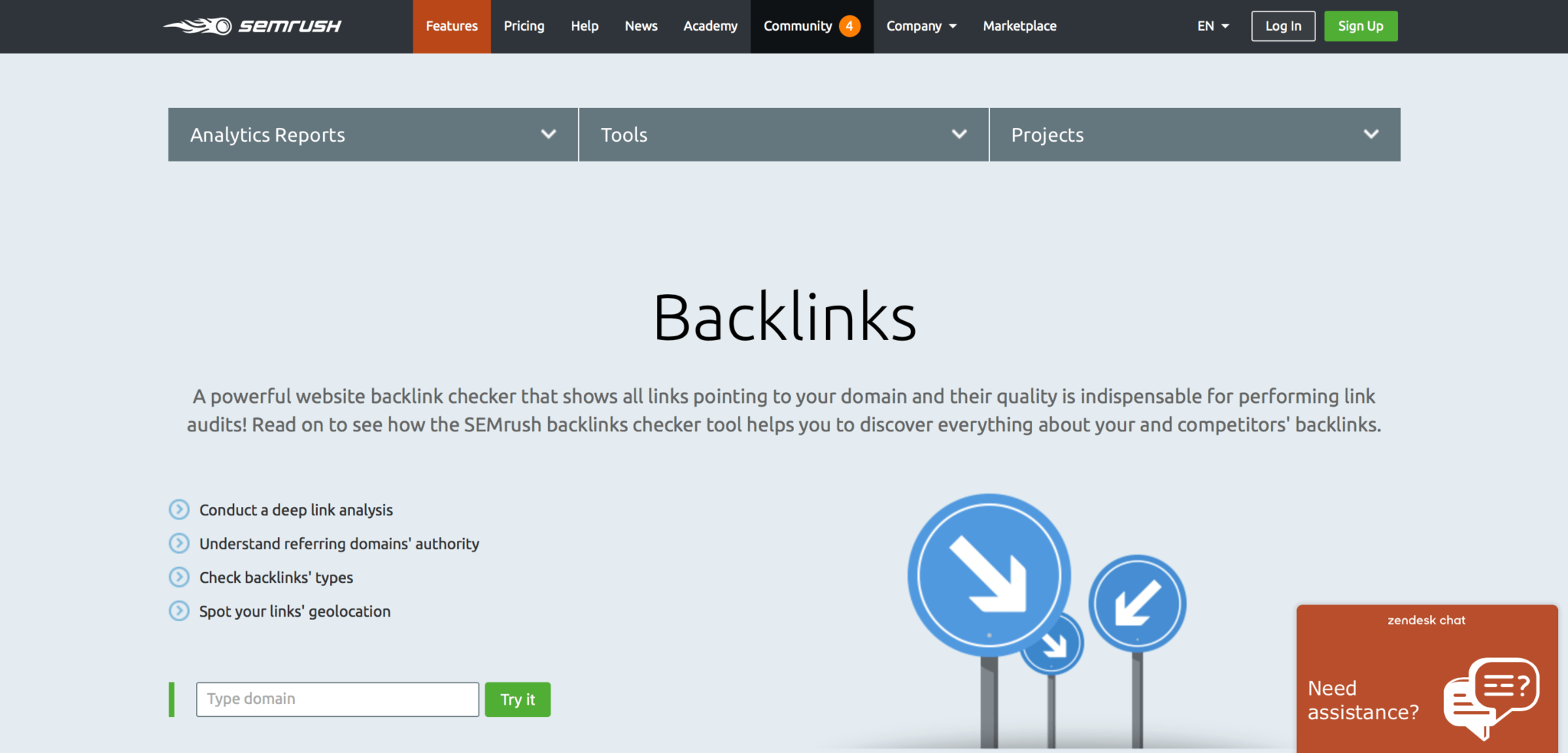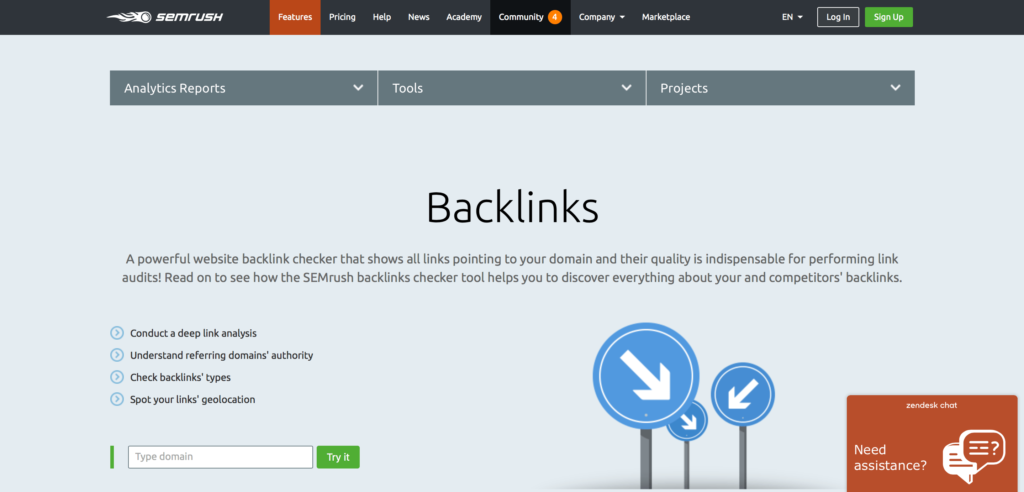 PRICE: Starts with $99 – $399+ per month. Free trials are available.
The good thing with SEMrush is that you can accurately check and monitor your backlinks and your competitors because it is updated daily. Tracking multiple competitors at one click is one of the most valued features.
It can access 20 billion keywords up to date and give you instant insights on improving your websites that will counteract competitor strategies.
SEMrush will also optimize your website to get local customers for local searches. It will also analyze the current market conditions for your ease to get ahead in the game. On top of that, it has content optimization tools that will help you create content that will drive more traffic to your website.
This tool can be a precious asset if you want to monetize the links that you are getting.
5. Ubersuggest


PRICE: Free!
Ubersuggest is a free tool that you can use to easily see who links to your websites and who links pages with your competitors. It provides a competitive analysis to monitor and study backlinks just by simply putting the URL of your website and your competitors.
When you register for free, it will give you the below great features:
Free access to SEO tools
SEO support and training
Daily rank monitoring
Personalized SEO ideas
It also has an advanced link filtering system for easy use giving you more time in discovering new link opportunities. Ubersuggest can easily filter the links by domain score, URL, region, anchor text, and more.
This is an efficient tool to use if you are on a budget. It can analyze your website and identify search engine optimization errors to improve your digital business.
6. Backlink Checker by Sitechecker

PRICE: Starts with $23 – $79+ per month. Free trials are available.
Backlink Checker by Sitechecker is a modern SEO tool. You can use the SEO checker to get a detailed SEO report with a personalized checklist on how to improve your website and get to the top of Google SERP.
Whether you run a startup, SMB, or e-commerce, Sitechecker will help you get to the top of Google without having to master SEO or complex SEO software. In case you run a marketing, web development, or design agency, Sitechecker will help you deliver SEO packages to clients without having to master it or hire experienced staff.
7. Google Search Console


PRICE: Absolutely free!
Monitoring your website's popularity in search results is easy with Google Search Console. It is a free tool made by Google to help you improve your rankings and monitor backlinks. This application can show you reports on how often you appear in search results. Google uses search analytics to optimize your content, giving you more traffic to your websites.
It can also fix issues in Google searches, including indexing problems. Whenever Google recognizes any problems on your site, they will send you email alerts to fix them.
This search console can also let you monitor which pages are linked to your website and how your search rankings contribute to your pages.
8. Buzzsumo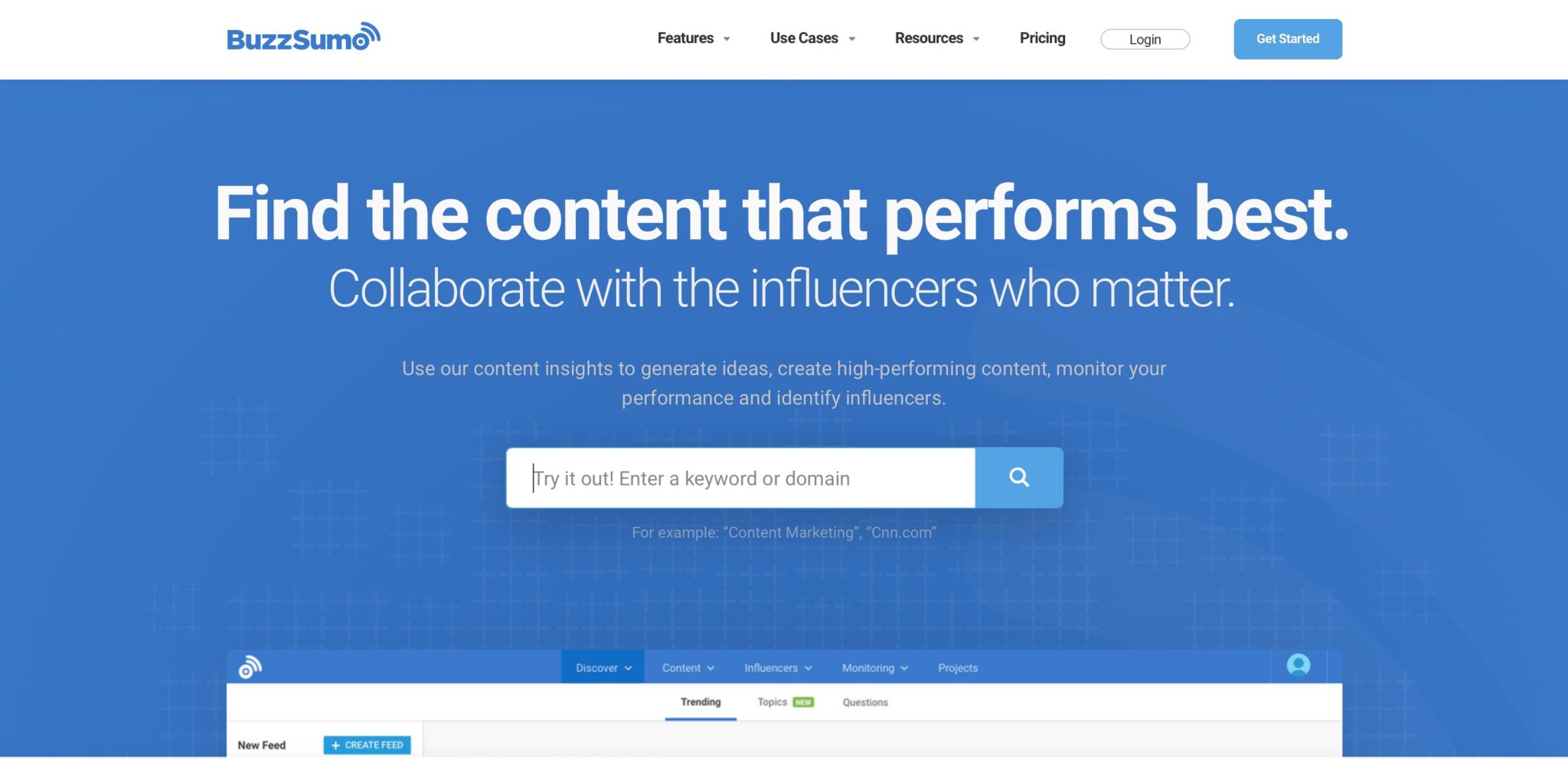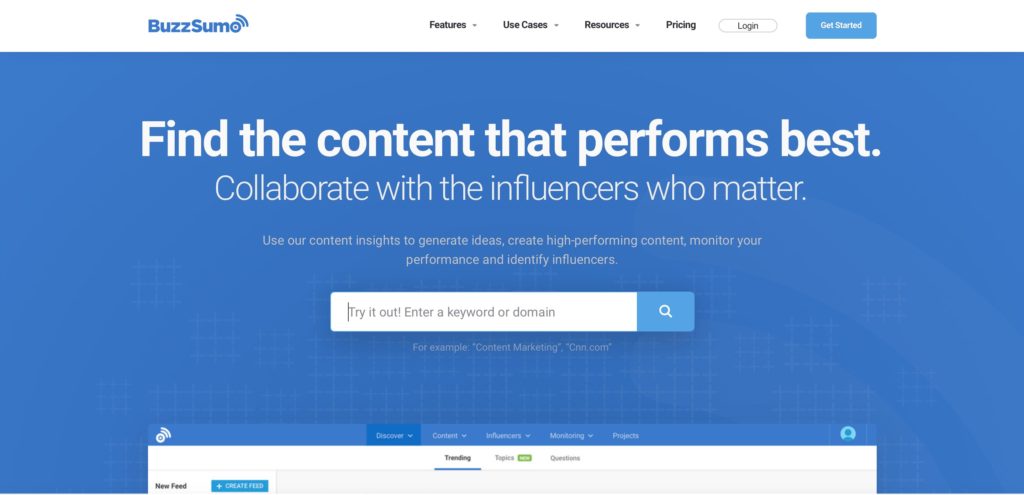 PRICE: Starts with $99 – $499+ per month. Free trials are available.
Buzzsumo is a very easy interface that you can use to search for different domains in no time. You can also see who is linking to each domain's sites.
It is one of the essential tools used in the market, especially in content advertising. It creates endless strategies for better campaigns by using backlinks to analyze data points and metrics.
It can also understand and study popular keywords in the market trends and identify other competitors' strategies. All in all, this tool is definitely creating a buzz!
In Conclusion
In a nutshell, checking backlinks is an exciting way to optimize and monetize your digital business. The above tools can help you reach your goals and survive in the digital world, but it is all up to you to make sure that you create sincerely reputable content that other companies will want to collaborate with.
Using these backlink checker tools will help you understand if your current website requires improvement and monitor which sites you need to disavow. This backlink checker is definitely a must and an important tool to improve your marketing strategies and improve your websites.
Latest posts by Johnny McKinsey
(see all)