Hosting refers to the place on the server where your site files are stored – databases, content, engine, etc. The functioning of the resource, its stability, and profitability of the business, when it comes to commercial projects, depend on the reliability of the storage and the speed of the servers.
Today we will tell you how to choose a hosting that meets your needs and not to lose money on the way.
What type of hosting providers are out there?
There are three types of them, the difference lies in the degree of service by the hosting company and technical capabilities required from you as the maintainer of your site or business online.
Shared Hosting
In this scenario, sites of different owners are hosted and run on the same server. Technical capacities are distributed among all users and you do not need to configure everything manually. The provider is responsible for ensuring operability.
The pros of shared hosting are as follows:
Low prices (the hoster makes a profit from a large number of customers).
The ability to contact technical support if problems arise. It's pretty important and the response speed is always high (at least, for the quality hosting providers like SiteGround or DreamHost) because the hoster is responsible for the operation of the resources of many users.
If conditionally 1000 sites become unavailable at the same time, this is fraught with loss of the reputation of the provider.
Additional functions – checking files for viruses, installing SSL-certificate, CMS, backup, one-click WordPress install (if you don't know what WordPress is, read our article. Most of the hosting providers today are WordPress hosting out-of-the-box), etc. Many of them are available in one click.
Accelerated operation of the resource in some cases. Suppose a server is designed for the uninterrupted functioning of 1000 resources, but only 500 owners use the services of a particular provider. Accordingly, existing sites take extra power from underused resources.
Server setup and software updates are the sole concern of the hoster.
Shared hosting solutions got two main disadvantages:
The desire of the provider to increase his profits and places on the server more sites than the server can hold, resources wise. For each of the users, this is fraught with performance problems, low page loading speed. The solution is to work with honest hosters for whom reputation is important.
"Bad neighbors." On the same server, along with your, let's say, online store, you can find online cinemas, casinos, adult-themed resources that somehow violate applicable law. If they are blocked, "law-abiding" projects will suffer. Solution: check in advance what resources are hosted on the same IP, work with hosters who value reputation who do not work with problem clients.
In general, this is a reliable and good hosting, it will suit a beginner who just starting his site and who does not want to understand the intricacies of the settings, and an experienced site owner, for whom saving time is important.
VPS hosting
Implies a virtual dedicated server. You rent part of it and you are not so dependent on your neighbors, because there are also fewer of them.
The benefits of VPS web hosting are as follows:
Fully manage the facilities you paid for. Resources not you currently not utilize are not distributed among other clients.
You control the operating system and software on the server. Technical support staff can configure hosting for the most comfortable work.
Adequate price when it comes to medium or large projects. We recommend choosing this kind of hosting for an online store hosting, corporate portal, forum – resources containing a large number of files and using a lot of disk space. For a Landing Page or single-page, this solution is not rational (just go with shared hosting).
There are no restrictions on the number of sites for one account. All limits apply only to capacities. You can place a single large project or many small ones.
There is only one drawback: you will have to delve deeper into the settings or separately pay for technical support services if something goes wrong or additional functionality is required that is not provided for in the selected tariff plan.
Dedicated server
All capacities and equipment are completely yours, there are no neighbors, any settings are possible. The only limiting factor is the high price. However, it makes sense to rent a dedicated physical server only for very large projects, for example, online games.
Practical tips on picking a website hosting
Let's start by mentioning the top tips you should follow on the way of picking your web hosting solution.
Tips 1 – Project requirements
Think about how much disk space you need. This value is directly dependent on the type of project. For a business card style site, the requirements are minimal while large projects need more resources. This is one of the points that affect the choice. Also, decide if you plan to expand in the future to order the optimal package right away.
Tips 2 – CMS for your site
Look at the technical requirements for hosting on the official site used by the CMS (for example, WordPress websites). For many of the CMS out there, the hosting solutions already provide a one-click installation and maintenance support.
Tips 3 – Dedicated IP
Find out if dedicated IP is provided by the potential website webhosting. This is much more convenient than sharing it with multiple users, moreover, it will protect against unwanted proximity.
Tips 4 – SSL certificate
These days, SSL is pretty much a must-have. Take an interest in the possibility of setting up an SSL certificate – the service is provided on a paid and free basis. Respectable hosting providers are adding the SSL certificate for free, as part of the hosting solution. Try to go with those.
Tips 5 – Separate domain registration
Separate your domain registration from your hosting solution. There are many reasons for that. As for recommended domain registrars, check out our review.
Tips 6 – Site backup
It should be possible to back up your site data so in case of technical issues, you will not lose the site and all the money invested in it.
Tips 7 – Hosting SSD hard drives
Find out what type of drives your provider uses – regular hard drives or SSDs. The latter option is better since it works several times faster. Accordingly, site pages also load at increased speed.
Tips 8 – Web hosting uptime
Pay attention to the uptime of the web hosting provider – it shows the time of smooth operation of the site with technical downtimes. The minimum value is 99.5%. It's important because, in the case of low uptime, the number of dissatisfied visitors is growing, which negatively affects your business.
Tips 9 – Control panel
Consider the convenience of a control panel installed on the server. The way it's implemented will affect how much time you spend on administration.
Tips 10 – Geolocation
Ask your provider where the equipment is geographically located. Many companies use server capacities located abroad, explaining this by reliability and stability. However, keep in mind that as the distance between the server and the user increases, the download speed decreases and it doesn't matter if you need to choose a hosting for your landing page, online store or news publication: the farther the server and the more "heavy" elements on the pages, the longer they load.
Tips 11 – Technical support
Take an interest in the technical support work schedule and questions that you can contact for a quick solution for your website webhosting. Look for 24/7 support.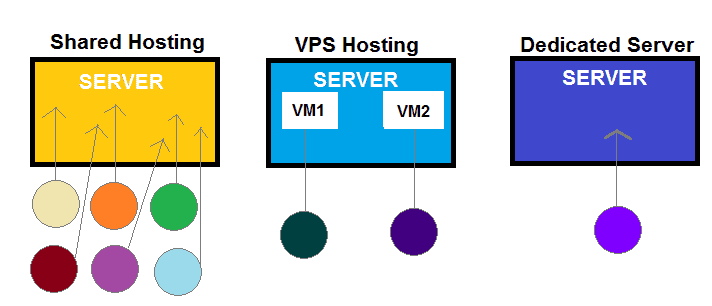 Where to find a good website hosting provider?
You can search for a hosting company on thematic platforms, forums, and groups. There are also compiled ratings, but there is no guarantee that the information presented in them is objectives or not sponsored by EIG. There are a number of hosting providers we recommend:
DreamHost website hosting
Check out DreamHost, a non-EIG, with free SSL, and SSD based web hosting solution. Already using them for a couple of years on numerous websites and absolutely satisfied with them. Great uptime and support when I need it. It's one of the best non-EIG hosting services available.
Also, with 90 days money-back guarantee period, it can feel safe with your money.
Start webhosting with DreamHost >
SiteGround website hosting
SiteGround is a non-EIG hosting solution which positions itself as a company offering high-quality, "well-crafted" hosting solutions. It got more unique developer-oriented features. For example, on "GoGeek" plan they do free PCI compliance and free Git & staging areas.
Start webhosting with SiteGround >
WP Engine website hosting
Web hosting offering by WP Engine is an expensive and premium managed WordPress non-EIG hosting for demanding users such as agencies and enterprises.
Start hosting with WP Engine >
Latest posts by Johnny McKinsey
(see all)